Ithaca College and the surrounding community are working together to combat stereotypes through cultural awareness events.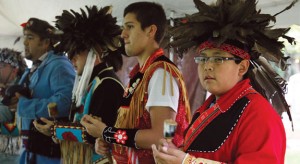 The First Peoples Festival,  a celebration of indigenous culture, was one of several steps toward educating the community about broader issues. Other attempts are being made to fight negative connotations toward Native Americans through native studies, native speakers and cultural events.
Brooke Hansen, associate professor of anthropology and coordinator of the Native American Studies minor at the college, said stereotypes about Native Americans range from images of drunk or dirty Indians and noble savages to scalping warriors. Many of these stereotypes, she said, come from media such as John Wayne movies and Bugs Bunny cartoons.
"Playing Indian is something really sensitive to Native Americans because for so long in this country the U.S. government tried to beat their culture out of them," she said. "So then to have other people lightly appropriate it, they don't understand the deep history about how hard it was for native people to hang onto their cultures."
Jack Rossen, associate professor and chair of the anthropology department, said as Native Americans are returning to their ancestral lands, negative connotations are rising.
"There are ideas that if native people come back to the homeland, people will be evicted from their houses, taxes will skyrocket, the character of the area will be ruined or there will be trailer parks, drinking in the streets and every negative stereotype you can think of," he said.
According to the 2010 census released in May, New York state's Native American and Native Alaskan populations amount to 0.6 percent of the total population, a 29.6 percent increase from the 2000 census and the second largest rise for all demographics.
Audrey Cooper, director of the Multicultural Resource Center, a cooperative extension of Cornell University, and member of the Lenape and Cherokee Nations, said Native American traditions sometimes become absorbed into mainstream culture and are misunderstood. She said her first goal for bringing awareness to the community was to showcase the talent and artistry of indigenous people through the First Peoples Festival.
"With any of the Ithaca festivals there's also a cultural piece for me that is missing," Cooper said. "And that's participation from indigenous peoples."
In the past few years, land claims by the Haudenosaunee Nations have been dismissed in courts, the most recent being the Onondaga Nation land claim, which was dismissed in 2010.
Though the sounds of drumming and flutes and the scent of corn soup and fry bread filled DeWitt Park on Saturday, there were no images of war paint or tomahawks. Hansen said to avoid some stereotypes at the festival, specific face painting templates were given out to student volunteers so people could not paint offensive pictures.
Junior Jessica Burgos volunteered at the festival and said the Native American dancers were one of the highlights of the event.
"Before the dances they would always give a description about why they created this dance — its purpose," Burgos said. "That's definitely a good thing because I'm sure we always watch tribal dances and don't understand their meaning and when we are told the significance we have a greater appreciation."
Another form of outreach, started by Rossen, Hansen and a handful of others, is the Strengthening Haudenosaunee American Relations through Education farm owned by the Cayuga Nation in Aurora, N.Y.
The Cayuga-SHARE farm began in 2001 as an educational center about native cultures and was later transferred to the Cayuga Nation. The plot marked the first land in New York owned by the Cayugas since the 18th century.  The area around the farm was surrounded by signs that read "No Sovereign Nation" and "No Indian Reservation."
Scott Perez, environmental justice and land use specialist, said as people got to know the Cayuga, their opinions changed.
"They don't seem as threatening," he said. "These are human beings, they aren't what we read about in school when we were kids."
Burgos said her knowledge of Native Americans has grown since coming to the college. Before, she said, she was unaware of their oppression and struggles.
"Where I am from in New Jersey, we don't have Native Americans out in the open, we don't have reservations — or if we do, we don't talk about it," she said. "I come to Ithaca, and there's the SHARE farm and the Haudenosaunee Nations. It's a whole different world."
Perez said the festival is beneficial to Native American people who have not connected with their ancestry.
"This is also another opportunity for native people here who have lived all their lives in urban areas and have been disconnected from their background, their culture and their history," Perez said. "It's a way for them to maybe reconnect and look at things differently."
Alf Jacques, an Onondaga Nation lacrosse stick maker, said some people who live near the Onondaga reservation in Nedrow, N.Y., are unaware of its existence.
"I don't know if they even care," he said. "You can't reach everybody and not everybody is going to care. Maybe that's why we have events like this, to get out and touch other people."
The college will celebrate Native American Heritage Month in November and will showcase an identity panel, a Native American comedian and cultural activities to educate students and spread cultural awareness.
Hansen said to help the Cayuga Nation return to its homeland, eliminating disconnects between the two communities is a necessity.
"That's why our native studies programs, the festivals, everything that we do out there in the community is so important," she said. "We have to break those barriers down. The Cayugas — they are going to want to come home to Ithaca and all around Cayuga Lake, and we have to help pave the way."