When Dr. Nancy Snyderman is not in the operating room at the University of Pennsylvania, she's on NBC Nightly News discussing health issues around the country and the world.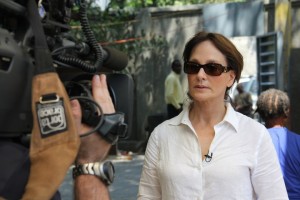 Snyderman, NBC's chief medical editor, will visit Ithaca College at 7:30 p.m. today to discuss health care and preventative health measures with the campus community. Her presentation is part of the Jessica Savitch Distinguished Journalism Lecture Series sponsored by the Roy H. Park School of Communications.
Senior Writer Alexandra Palombo spoke with Snyderman about health care reform and health issues in the media.
Alexandra Palombo: Why did you decide to mix medicine and journalism.
Nancy Snyderman: The medicine was easy — I knew I wanted to do that in third grade. Journalism was a little bit of an accident. I was doing a tonsillectomy at the University of Pittsburgh when I was a resident, and I ended up being on television. At the end, the producers said, "You're not bad. Have you ever considered television?" And the answer was "No." So one thing led to another.
AP: How have your two careers intersected?
NS: I was always able to have parallel careers. I believed firmly, and still do, that you have more credibility as a correspondent if you stay a physician. So I've always practiced medicine and seen patients. But being a correspondent has made me, interestingly, a better doctor. I listen differently, I know more medicine and I think in more global terms. So for me, having parallel careers has been very advantageous.
AP: Why do you think health correspondents are becoming more common, particularly in the United States?
NS: Americans have a voracious appetite for health and wellness. And what started 25 years ago when I started doing medical reporting was it really became the "news you can use" stuff. It was stuff like allergies in the spring and how to avoid having a heart attack while shoveling snow in the winter. And then we realized people really wanted to know what was coming out in journals, and they started listening to headlines.
AP: What have you found to be your biggest challenge in crossing over from the operating room into becoming a medical reporter?
NS: The biggest challenge is to take sophisticated material and talk plain. So whether you're an MD, Ph.D., or whether you have a high school education, you should be able to see a report and walk away with something you didn't know. The tendency I've found over the years, when I interview people with lots of initials after their names, is that they tend to be condescending, or they can't speak English anymore. They sort of lose the ability to communicate.
AP: What health issues do you think should be discussed more in the media?
NS: Frankly, sex. And by that, I mean sexuality in youngsters. Teaching kids in preschool and kindergarten and first grade to call body parts by body parts. So, "vagina" and "penis," not all those words like, "down there" and "private parts." Body parts like a penis and a vagina are as important as an ear and a nose and a throat and hair. Because that allows kids to accept their bodies. And then if they get into trouble, it gives them the courage to say, "This is the part of my body that I'm having problems with."
AP: Why do you think it's important to speak with college students about health?
NS: We tend to think — and we all do this in our teens and 20s — that nothing is going to happen to you. But the reality is things happen all the time. The lifestyle you have now, you will pay for later.
AP: Why did you choose to focus on women in your books?
NS: I worked very hard not to be put on what I called the "breast cancer and menopause circuit." Because there's a tendency if you're a female physician or reporter, that that's all they give you. So I said, "Look, I can report on prostate cancer and heart disease with the best of them." And I found that as I did that, it was fine, but no one picked up on the women and children's issues again. So I've come to re-embrace those issues.
AP: How have health care changes affected your reporting and medicine?
NS: The challenge for health care reform is to tell the story, because people hear health care reform, and they sort of glaze over. And I can tell you even the producers at NBC News hear health care reform, and they glaze over. Nobody wants to talk about it. There are a lot of untruths out there. So trying to explain to people that the incremental health care reform we saw last fall — which isn't perfect, but it's a step in the right direction — means that at least there's not going to be an attack on health care expenditures for chronic illnesses, that you won't be dinged for preexisting conditions, that children are going to be able to be covered. Those are very big steps forward.