An Ithaca College Office of Marketing Communications survey gathering input on its potential brand identity went live yesterday evening.
The survey asks participants to judge a series of images and potential advertisements designed to communicate that the college is "forward thinking, confident, professional, well-prepared and ready for the future".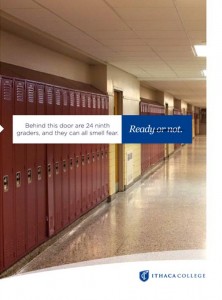 One proposed ad features a photo of a student cellist and describes how the college's music school prepares students for their lives after graduation.
Another advertisement features a photo of lockers in a high school hallway illustrating how students are prepared for teaching careers.
The proposed logo for the college is a blue shield containing "IC" in white lettering with "Ithaca College" displayed outside to the right in blue.
Reuben said the brand statement is designed to portray the college as an institution that creates graduates who are "Ready" — the campaign's tagline.
Reuben said after request and review proposals for the branding project were made last spring, the college worked with Mindpower, a marketing firm, on a brand identity using qualitative and quantitative feedback to develop the "Ready" message.
"This initiative is about far more than a new logo for Ithaca College," Reuben said. "We are undertaking a comprehensive college-wide branding initiative that ties to our mission, vision, IC20/20 and increases the overall visibility of Ithaca College."
Mindpower and SimpsonScarborough, the firm responsible for launching the survey, met with 26 focus groups of prospective students on their visits to the college between August and September to find out what they felt epitomized the college. SimpsonScarborough also conducted a separate research survey at colleges and universities across the country to gather perceptions of the college.
Senior Matt Watkajtys, photo editor for Fuse, said the promotional magazine got a glimpse of what the college's new brand identity might look like at one of the magazine's meetings. He said he was dissatisfied with the logo, which reminded him of something that might be used by a medical institution.
"The first thing I thought of when I saw it was Blue Cross Blue Shield," he said. "It's really too medical, and it doesn't do a great job of portraying everything that Ithaca College is about."
However, Watkajtys said the "Ready" concept highlighted in the rebranding encompasses the different experiences students have had on the college's campus.
"At the very base level, everybody walks out of Ithaca College with some new knowledge about the field they are going into," Watkajtys said. "Everyone has either made great connections in their industry, worked an internship or has just done something really cool on campus that will stay with them forever."
Senior Meghan Swope, student representative for the Marketing Advisory Committee, said she was excited about the "Ready" brand statement Mindpower presented to the council in December.
"When they read that at the presentation, it kind of gave me chills," Swope said. "I got really excited about it. It just makes you feel really empowered and really ready to go out there and do it at the college."
Swope said every participant's response will be taken into consideration to assure that the "Ready" campaign accurately represents the college community.
"One of the key points is that no one wants an image that doesn't reflect the campus community," Swope said. "So that's why this doesn't include just students and faculty, but alumni, staff, colleagues and prospective students, as well. The survey is definitely going to play a part in moving forward with this project."
Watkajtys said student input must take priority, because regardless of what marketing firms may discover or plan, it's the student opinion that matters most.
"The outside research companies come in to try and come up with new ideas about how the school will be rebranded, but they're not actually going to classes or know about daily life on campus," Watkajtys said.
"If the students don't participate in the survey, we can't rebrand the school without knowing what they actually think, and no one knows the school better than those who go to the school."
Elizabeth Scarborough, CEO of SimpsonScarborough, said it was originally scheduled to be released to the student body on Monday, but last minute tweaks to image resolution delayed its release.
"The tweaks [were] just with the images, so that they load quickly when [students] take the online survey," she said. "People might get bored and stop taking the survey if it takes too long, so we [were] testing the loading time."
Scarborough said the survey will help the college determine how much work still needs to be done in making the "Ready" branding campaign accessible to the college community.
"They need an understanding of which direction to move in with their marketing campaign and how effective it really is," Scarborough said.
Reuben said a final report and analysis of survey results is due from SimpsonScarborough in May.