Plans are under way to bring Olive Garden Italian Restaurant and Panera Bread to Ithaca.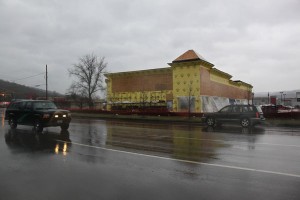 Panera has already received approval from the city of Ithaca and began construction at its future location on South Meadow Street, across from Taco Bell. Olive Garden — which will be located on land that was once occupied by Bruce's Car Wash on Elmira Road, near the Hampton Inn — plans to apply for final approval early this May and begin construction shortly thereafter, Lisa Nicholas, senior planner for the city of Ithaca, said.
The restaurants, which plan to open early this summer, are expected to create more than 200 jobs.
Darden Restaurants is a corporation that includes Olive Garden and other chain restaurants such as Red Lobster. Mark Jaronski, director of communications for Darden Restaurants, said the corporation has been interested in opening an Olive Garden in Ithaca for some time. Though they have not yet submitted the permits needed to begin construction, Jaronski said they are under contract with Benderson Development and plan to submit permits by early May.
"We are attracted to Ithaca for a number of reasons, including demographics, retail vibrancy, labor force and demand for the Olive Garden brand," Jaronski said.
Charlie Roff, joint venture partner for Panera Bread, said that Panera has also been interested in the area.
Roff said because of its "small-town environment with a little bit of big-city atmosphere," Ithaca was a logical place for Panera to open a restaurant.
Panera will feature a drive- through and outdoor seating area for customers. There will also be two tenant spaces in the back of the Panera building that will be available for lease, Roff said.
These features are meant to attract students, who Roff said he hopes will use the café as a place to get off campus, relax, socialize and do schoolwork.
But with many students without cars and already regular patrons at similar restaurants like Collegetown Bagels, Panera may not receive a great deal of business.
Freshman Anna Kimble said she doesn't foresee these chain restaurants doing well in a city that strives to support local businesses. Panera, in particular, Kimble said could have trouble competing with similar local cafés.
"Olive Garden will get some business because there isn't really an Italian restaurant that I know of that offers affordable Italian food, but Panera has to compete with [Collegetown Bagels] and Ithaca Bakery," Kimble said.
Though Kimble said she has been to Panera in the past and liked their food, she said she prefers supporting local restaurants and wouldn't be willing to venture that far from campus to eat.
"I don't plan to go to either when they open," Kimble said. "I don't have a car, and I don't particularly care about either."
Ramsey Brous, the co-owner of Ithaca Bakery, said the bakery isn't threatened by Panera's opening.
"We have been in business for a long time in Ithaca and have seen many competitors come and go through the years, and none have matched our commitment to quality and service," Brous said.
Though Brous said Ithaca is uniquely committed to local businesses, he doesn't think that just being local will be enough to keep Ithaca Bakery and Collegetown Bagels, which are both owned by Brous & Mehaffey, filled with patrons.
"I don't think people will sacrifice quality to keep buying local," he said. "If local businesses are to be successful then they need to be at the top of their game particularly when we have chains going into town."
Roff said Panera doesn't intend to compete with local businesses because they serve different customers.
"[Ithaca Bakery] has been in the area for quite a few years, and they have their own niche," Roff said. "I think Ithaca is big enough to accommodate everybody."
So far, Nicholas said she thinks the city has done a good job of promoting a healthy amount of development.
"The city has tried hard to make sure the developed areas off of South Meadow Street use landscaping, are walkable and as bike- and pedestrian-friendly as possible," she said.
Nicholas said the Planning Board and Building Department oversees all projects of this nature to ensure that they comply with city zoning, receive proper permits and comply with the city's environmental impact statement. The impact statement she said, was created in an effort to limit the amount of outside developers able to settle in the area.
The statement also takes into account the effects of traffic flow and drainage, chair of the City of Ithaca Planning and Development Board, John Schroeder, said. At this point, Schroeder said the city is still under the development threshold and will not exceed it with the construction of Panera or Olive Garden.
Jennifer Dotson, chairperson of the Common Council Planning Committee, said she is concerned that encouraging city development in this way could end up hindering, rather than bolstering, the local economy.
"I am very aware of the benefits of local businesses in terms of supporting local food production and keeping money local," Dotson said. "The idea of yet another chain restaurant, or two, concerns me from this perspective."