"Go Ducks!"
The random cheer of 17 students, members of the new student group Generation Rising, had less to do with the purpose of the meeting Feb. 6 in the Campus Center and more to do with building morale.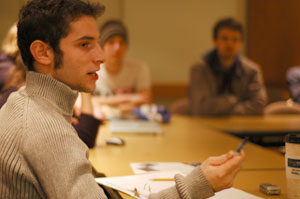 Leading the discussion on strategy for the club's mission — to create campus debate about issues like race, the environment and government policies through media — junior founder Craig Silverstein said the new club is about more than just words.
"I know many groups talk, talk, talk and by the end of the year they just built up a reputation of talk," he said. "I want us to have the opposite effect … we want people from the outside to just see these projects unfold in front of their eyes."
Silverstein said Generation Rising hopes to promote social change beyond the college community. According to the club's mission statement, the goal of the group is to create a venue for students to become active in sparking social change using radical media.
Silverstein believes that if people are inspired to speak and inform other people, it could prompt social change. Issues the group plans to tackle through various media projects include gender, ethnicity, sexual preferences, industrialization, and domestic and foreign politics.
According to Silverstein, the group submitted forms to officially register with the Center of Student Leadership and Involvement with a membership of nearly 30 students. Though Silverstein said he has envisioned a group like Generation Rising since high school, his inspiration came from classes with Travis Vande Berg and Julian Euell, assistant professors of sociology.
Since the issues the group plans to address are controversial, they have already discussed the possibility of upsetting certain people on campus, Silverstein said. But he said the group is determined to voice its opinion to promote campus conversation and will not back down from a project if it may get them in trouble.
Vande Berg, the group's adviser, said as long as he was notified of a project before it began, he would vouch for the group if problems arise.
The group plans to start on projects in a week or two, Silverstein said. At the meeting, the group brainstormed ways to spread their ideas, including carving messages into snow and making film clips. Another idea was to show what underprivileged children care about by giving them disposable cameras and using their pictures on a Web site.
"Our intention is to get people to stop and observe," Silverstein said. "I want people to take the knowledge of that message not only for themselves but also for their spouses and children. I think having people take that message and explaining it to other people will have the ripple effect."
Vande Berg said he thought the group fits well with what students should be doing with their time and resources provided by the college.
"I'm in favor of students doing participatory democracy," he said. "It's a group that can and will go a long way provided that students stay interested in it, and it sounds so far like that is the case."
Silverstein said many of the group members are enrolled in the Roy H. Park School of Communications, so they can use the school's media resources to complete their projects. Silverstein said the group hopes to obtain future school funding and private donations.
Members of the group said they understand they have to take risks in order to promote change. Junior Jonathan Gerberg, the group's treasurer, said he sees Generation Rising as an important step toward his future.
"I like to think I'm still working towards my greatest accomplishment," he said.
Vande Berg said he is eager to see how the group will unfold.
"The test will be when they start doing things and the kind of response they get and the kind of participation they get," he said. "It seems like it has a lot of potential, which is great. But again it is a student organization, so it's up to students to keep it going."