While foreign language programs at universities nationwide face cutbacks, Ithaca College's department of modern languages and literatures is on its way to expanding.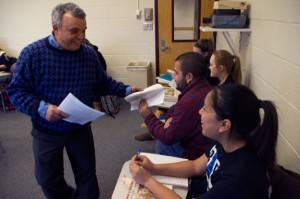 A report submitted to The Journal of Higher Education by four scholars at the University of California at Riverside uses federal data from 1971 to 2006 to demonstrate an almost 17 percent drop in the number of universities offering romance language majors. German language programs suffered similar losses, decreasing by nearly 17 percent.
Michael Richardson, chair of the department of languages and literatures, said in the past five years, enrollment in language programs at the college has remained steady, with the number of students majoring in a foreign language increasing from 51 to 63 between 2006 and 2010 and the number of degrees granted growing from 11 to 22 during this time.
Minor enrollment has also grown from 145 to 160 in the past year alone, he said. This brings the total credit hours for the 2009-10 academic year up to 7,200 from 7,000 in 2005-06.
Richardson said the majority of credit for the growth of the college's language department can be attributed to an increase in student interest, which has led to the addition of Mandarin Chinese, Arabic, Russian and an Italian area studies major, which was previously a minor.
The department plans to hire three additional full-time faculty and fill two preexisting positions this coming year to accommodate an increased student interest, she said.
"Our biggest challenge, particularly during summer course registration, is to make sure enough sections of language are available to incoming students," he said.
Richardson said trouble finding professors to teach classes is not an indication of a lack of funding but a timing issue.
"In the short term we add part-time positions to accommodate student demand," he said. "As it becomes clear this demand is steady, we explore ways to convert these part-time positions into full-time ones. There will always be a little lag involved."
Leslie Lewis, dean of the School of Humanities and Sciences, said the college's new IC20/20 plan has also facilitated department growth.
"One of the objectives of the plan is to enhance our emphasis on student experience related to diversity and the global nature of society," she said. "Language study is crucial to this goal."
Bernardo Torres, assistant professor of Spanish, said the role of the language program at the college and enthusiasm of students makes his job rewarding. Torres said he knows from personal experience that learning a foreign language is essential to understanding other people and cultures.
"It can give you a different perspective on life — about yourself in relation to the rest of the world," Torres said.
Sophomore Josh Nelson has been taking Spanish courses since he was 5 years old. Now he said the same instruction that shaped his childhood has an uncertain future.
"In my town, they're now closing a lot of those same programs because many Hispanic teachers can't afford to live there anymore," he said. "It's really frustrating for me to watch."
Richardson said elimination of these programs usually occurs because of problems funding college programs, not fading student interest.
"It ends up being a vicious cycle; fewer jobs are available, leading to fewer graduate students and diminished programs," he said. "Foreign language programs are seen as low-hanging fruit — easy to cut."
Richardson said the college has no plan to cut programs and is instead focusing on the  growth and diversification of available programs.
"The people here recognize the importance of international education and the integral role it plays in preparing students for success," he said.  "Our programs have been strong for a long time, and we expect them to continue to grow and thrive in the foreseeable future."