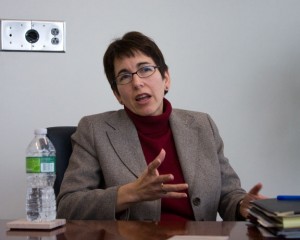 Marisa Kelly, current dean and McQuinn Distinguished Chair at the College of Arts and Sciences at the University of St. Thomas in Minnesota, has recently been selected to be Ithaca College's new provost and vice president for academic affairs.
Kelly said she is excited to be stepping up and taking on the role of provost and is looking forward to joining the college when its 10-year strategic plan, IC20/20, is being put into motion.
Kelly visited the college for three days, between Friday and Sunday, and said she will continue to make visits to the college throughout spring to get to know the student body and build a strong knowledge base before assuming the position of provost July 1.
Assistant Photo Editor Kelsey O'Connor spoke with Kelly Friday afternoon about her new position and why she wanted to join the college community.
Kelsey O'Connor: Why did you choose to work at Ithaca College?
Marisa Kelly: I was at a point in my current position where I have an interest in being able to affect institution-wide change that goes beyond a single school. As dean of the College of Arts and Sciences right now — I really only have the ability to affect change within the College of Arts and Sciences and I've become increasingly interested in being able to move beyond that boundary. Ithaca College presents a nice opportunity for me to do that. For a number of reasons I think it's a good fit for me so it just made sense from that perspective.
KO: Are there any particular characteristics of Ithaca College that stand out to you?
MK: I really like the strength of the arts here and I like the reputation of the institution as a comprehensive residential college. I really believe that student learning, particularly at the undergraduate level takes place very much so inside the classroom but also outside the classroom. Those outside the classroom experience may be academic in orientation, they may be field research, they may be community-based learning but they are also the kind of things that happen in residence halls or other kinds of student life activities. I'm anxious and very happy to be a part of a place that takes that entire student experience very seriously. I want to help IC insure that [a residential campus experience] remains a strength and a real hallmark that brings students here from all over.
KO: Did you get a chance to get to know the students here yet?
MK: I certainly hope I'm getting a sense of student life tonight. I'm going to Ithacapella. I think that will be a good first on-campus student event for me to attend and give me a good idea of what gets people excited here on campus in terms of student life — I'm getting a little glimpse tonight and then I will hope to continue to those kinds of things over the course of the spring semester so that I can get a sense of who you are and what you're doing both in and out of the classroom.
KO: How do you think your past experience with other institutions will help with your new provost position here?
MK: I have experience across [the institutions I've worked at] with virtually every discipline that's represented on the IC campus, whether it's music, communications, journalism, biology, history, studio art or business. I have had some engagement with all of those programs and with a similar mix of professional and liberal arts units as you have here at Ithaca College. I also think my experience at private institutions of roughly similar size, both of which were comprehensive residential campuses, will be very important to continue to move forward the entire student experience at Ithaca College. … I think in that way my background is very much a good fit for Ithaca College.
KO: Is there anything in particular you are hoping to see come out of the IC20/20 plan?
MK: Well I think there are a few things that are absolutely critical. … It's critical that we come out [of the plan] with a set of specific steps that really will help to move the campus forward in terms of integrated learning — and it is also critical that it leverage the residential nature of the campus.
KO: What skills do you have that make you best suited for this position?
MK: I am a strategic thinker. I really want to work with other people and learn from them and work together to make decisions that are best for the institution going forward. At the same time, I'm decisive. I'm not afraid to move forward once an established direction has been determined, to move forward and really make sure we take steps down that path and make progress. I am particularly good at aligning resources with strategic decisions, and that's particularly important right now with IC 20/20 moving forward. I've got experience doing that and also commitment to doing that.