Rachel Reuben, the new associate vice president of marketing communications at Ithaca College, is no stranger to social networking sites. Reuben earned an MBA in marketing and management from SUNY-New Paltz in 2009, has an active Twitter account and blogs regularly. The 30-year-old hopes to bring fresh ideas to the table as she works to create a new identity for the college.
Reuben plans to explore using social networking sites that are not currently a part of the college's marketing program. In addition to creating an online marketing strategy, Reuben will also be in charge of implementing and evaluating new programs on campus.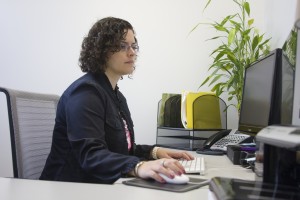 Contributing Writer Kate Calleri spoke with Reuben about her new position, goals for the institution, Twitter and the college's new online identity.
Kate Calleri: What brought you to the college?
Rachel Reuben: I was already very familiar with Ithaca College. I was doing a lot of networking with those folks. I saw this position posted in January, and it is just exactly what I was looking for. I was looking for a challenge.
KC: What is your background in media?
RR: I was at SUNY–New Paltz for 13 years. I was the director of communication there. My background involved primarily website [work], but [it] also related to mobile, social media, media relations, crisis communications, recruiting initiatives and online initiatives.
KC: Do you plan on using social networking sites for the benefit of the college?
RR: What I am looking at for the college is how much effort we should be putting into our Twitter account, Facebook page and Foursquare. We are going to do some informal polling, focus groups and surveys to try and gather information. We are considering building a mobile site as well.
KC: The college has its own social networking site, MyHome. What are the advantages and disadvantages of having a site that is campus specific?
RR: MyHome offers incredible opportunities that aren't tapped into, which is one of my unofficial goals going into this academic year — to help spread the word and communicate the things that are in MyHome for students in terms of community building.
KC: On your blog you wrote, "Print is not dead and will not completely die." Could you elaborate on those thoughts?
RR: I don't think that we should stop the presses and stop printing absolutely everything. There is still value in print. But I do think we should rethink how we use those print pieces, and I don't think we should continue to do things the way we have in the past when it comes to print.
KC: The college uses several print publications for marketing. How do you plan to balance all of them?
RR: They all need to be integrated. The college produces two magazines, ICView and Fuse. I am working with staff to find better ways to figure out how websites can better play off each other and integrate.
KC: What are some of the advantages to the college having a Twitter account, and how should the networking site be used?
RR: [The college's Twitter account] is well-known for having a very unique voice in higher education. I would not consider it one of the most critical communication vehicles, but there is a very niche audience there.