A new state law went into effect Sunday that will legally protect off-campus students who call for help in an alcohol or drug-related emergency.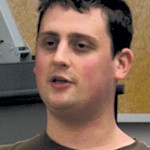 Currently, Ithaca College's Medical Amnesty Policy protects students from being prosecuted when contacting authorities in an emergency on campus, but now with the new law, both off-campus students and regular citizens who call for help will be assured the
same protection.
The purpose of the law is to fight alcohol and drug overdose and convey the message that saving lives is more important than incriminating people.
Senior Evan Nison, president of the college's chapter of Students for Sensible Drug Policy, was a driving force behind passing the new law, known as the 911 Good Samaritan Law, as well as for a MAP last year.
Nison said the success of last year's policy on campus was a source of inspiration for SSDP's legislative efforts.
"We had a meeting at the end of last year with a bunch of school officials," he said. "And pretty much everyone at the meeting seemed to agree that it was a success."
SSDP started front-end work on the bill before it was formally introduced to the legislature last year. They went to the Capitol with letters of support written by health staff from the college and Cornell University.
Nison said the letters were helpful and played a large role in getting legislators on board.
"The few people with experience with these policies already in the state supported it and had a really good experience," he said.
To back their efforts, SSDP supplied a Cornell study published in the International Journal of Drug Policy that demonstrated the effectiveness of amnesty policies in higher education. The results of the study were from Cornell's own nine-year-old policy showing that while calls for help doubled, alcohol use had remained the same.
SSDP was able to get the law passed with help from Senator John A. DeFrancisco, R-N.Y., Senator Kemp Hannon, R-N.Y., and Assemblyman Richard N. Gottfried, D-N.Y.
"The leadership from the assembly and the Senate both really took this seriously and worked hard to make sure that it got to the governor's desk," Nison said.
Mike Leary, assistant director of judicial affairs at the college, said it took
time for students to start using the new policy.
"Even last semester I noticed a difference," he said. "There were maybe 10 or 11 students that got medical amnesty last fall, but we more than doubled that in the spring semester."
Leary said he was glad more students are taking advantage of the policy.
"The more it becomes a tradition — the more it becomes something people trust in, the better, more effective the policy will be," he said.
Leary also said he thinks the new law will help foster a better relationship between students and the police.
"Students who live off campus can call the Ithaca Police and get help and not feel like they're going to get in trouble," he said.
While nothing will change for students living on campus, Nison said the policy will have the most impact for off-campus residents because though the law is primarily geared toward college students, regular citizens — no matter what age — can now expect the same help.
"It's not just college students that can get into a serious health situation by drinking too much or having a bad reaction to a drug," Leary said. "It could be anybody."
There are some stipulations with using the amnesty policy. To avoid being judicially sanctioned, students cannot have any other violations of student conduct, such as combative or threatening behavior, vandalism or failure to show identification.
The new law, unlike the MAP, does not require any type of educational follow-up. But, like the on-campus policy, students can only receive amnesty from drug or alcohol charges. If there are any other violations of the law during the same incident, they are not protected from being charged for those additional violations.
While the new law does not require a follow-up, Nancy Reynolds, health promotion center program director at the college, said intervention after a drug- or alcohol-related incident is essential.
"For students it can be a very traumatic experience to be arrested or to have an incident and be taken to the hospital," she said.
Reynolds also said it's important  students have an outlet available to express themselves without facing judicial consequences.
"I think it's important to be able to sit down with someone confidentially and talk about it."