Backed by members of the Ithaca College and local communities, President Barack Obama announced last week that the State Department had rejected planned construction of the TransCanada Keystone XL pipeline.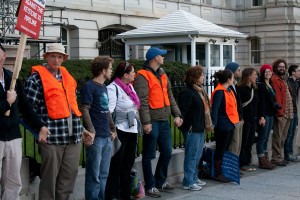 In November, close to 70 members of the Ithaca community, including students from Ithaca College and Cornell University and local residents, traveled to Washington, D.C., to form a human chain around the White House with more than 12,000 other protesters opposed to the pipeline's construction.
The Obama administration rejected TransCanada's application to build and operate the pipeline before a Feb. 21 deadline, which the Republican-controlled Congress was pushing for. The administration cited narrow time constraints in its decision and did not rule out approving a new permit in the future. The pipeline, designed to decrease the United States' dependency on Middle Eastern oil and create American jobs, would have carried tar-sands oil from Canada to Texas refineries.
The White House blamed congressional Republicans for the rejection of the pipeline project because the deadline did not afford officials sufficient time to research the potential effects of the pipeline. Opponents argued the pipeline, if constructed as planned, could pollute nearby water sources and reap other negative effects on the environment.
"The announcement is not a judgment on the merits of the pipeline, but the arbitrary nature of a deadline that prevented the State Department from gathering the information necessary to approve the project and protect the American people," Obama said in a statement last Thursday.
Freshman Meredith Knowles, a member of IC Frack Off, an on-campus environmentalist group, said she believes the November protest represented an attempt to hold the Obama administration accountable for pro-environmental campaign pledges. She said protesters called for a cleaner form of energy instead of tar-sands oil, one of the dirtiest forms of oil.
"We had signs with quotes from his campaign," Knowles recalled. "We were throwing his words back in his face. It was a little bit of a wake-up call."
Though Knowles said she believes the protest may have pressured the Obama administration's decision, Maura Stephens, advisor of Frack Off and associate director of the Park Center for Independent Media, said she wishes the president had rejected construction of the pipeline across the U.S. based solely on environmental concerns.
"Some people think this means President Obama might oppose this dangerous, destructive pipeline that has the potential to poison millions of acres of land and enormous quantities of water," Stephens said. "But what he said when announcing temporarily denial of the construction permit paints a different picture."
Though she said she was excited Obama nixed the pipeline proposal, Knowles said she does not feel as though environmentalists' voices are being heard as much as they should be in the debate. The Obama administration has already granted TransCanada the opportunity to reapply for another construction permit, and Russ Girling, president and CEO of TransCanada, has stated that the company will do just that.
"It's frustrating because we live in this country too," Knowles said. "We live on this planet, we want to protect it, and it doesn't really matter where they're piping the oil because it's going to affect people who don't want this to be happening."