The two heirs to the Park family fortune are engaged in a legal battle over which sibling should have the authority to act on behalf of their elderly mother.
Adelaide Park Gomer and Roy H. Park Jr., the children of Roy H. and Dorothy D. Park, have filed lawsuits concerning who should be granted the power of attorney for 98-year-old Dorothy Park.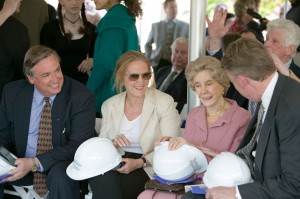 Ithaca College benefits directly from the Park Foundation, an organization started by the late Roy H. Park Sr., who served on the college's board of trustees from 1973 to 1993. The foundation distributes grants, scholarships and gifts to organizations.
The Park Foundation is an influential organization in relation to the college. It has funded many speakers and events at the Park School of Communications, the construction of the Park Center for Business and Sustainable Enterprise and the Park Scholar Program.
The Park Foundation was divided by Dorothy Park in 2001 into the Park Foundation and the Triad Foundation, a separate organization Park Jr. runs. Dorothy Park and Gomer serve on the Park Foundation's board.
The result of the lawsuits could affect where future funding goes, depending on which sibling serves as Dorothy Park's agent. Dorothy Park's residuary estate is valued at more than $200 million.
Diane Gayeski, dean of the Park School, said she is not concerned about the current lawsuits affecting the college's funding.
"I have no reason to believe that this matter in any way would jeopardize the current programs funded by the Park Foundation," she said. "We've always had a wonderful relationship with Mrs. Park and Adelaide Gomer and the Park Foundation, and this matter in no way impacts that."
The power of attorney would allow either Park Jr. or Gomer to act as an agent and take care of their mother's affairs, including signing checks and making charitable donations.
According to court documents, a springing power of attorney Dorothy Park signed in 2006 gave Gomer the right to assist her if a doctor asserted she was incapable of caring for herself.
Since February, Gomer and Park Jr. have contested who holds Dorothy Park's power of attorney.
On Aug. 7, Dorothy Park signed a power of attorney agreement naming Park Jr. as her agent, including a New York Statutory Major Gifts Rider that would grant him the right to contribute major gifts on her behalf. Park Jr. then filed suit in Tompkins County Court on Sept. 24, seeking a temporary restraining order requiring Gomer to recognize his control over their mother's affairs, according to Park Jr.'s affidavit.
As of Oct. 8, under orders from Judge John Sherman, Park Jr. is officially recognized as having power of attorney in a limited capacity. Gomer also filed a petition that day asking the court to assign herself as her mother's guardian, according to court documents.
William Troy, attorney for Park Jr., declined to comment on the case.
Ray Schlather, attorney for Gomer, said in an e-mail that Gomer did not wish to comment.
According to court documents, Dorothy Park's will was altered Aug. 15 while Park Jr. was designated as her agent. In January 2007, the $200 million inheritance was to be split evenly between the Park Foundation and Park Jr.'s
Triad Foundation.
The change made Aug. 15 designated $120 million to go to the Triad Foundation and $80 million to the Park Foundation.
Jon Jensen, executive director of the Park Foundation, declined
to comment.
Maura Stephens, associate director of the Park Foundation-funded Park Center for Independent Media, said both Dorothy Park and Gomer consider their support of the college a high priority.
"As a longtime member of the college's board of trustees, Adelaide will continue to share with the administration her passion for liberal education," Stephens said.
A ruling from Judge Sherman on Nov. 3 placed limits on Park Jr.'s exercise of his power of attorney over his mother's affairs.
A hearing is scheduled for 9:30 a.m. Tuesday in the Tompkins County Courthouse to evaluate Dorothy Park's mental competence.