In the second part of a series on IC 20/20, The Ithacan takes a look at the service learning and housing community initiatives in the 10-year strategic plan.
With IC 20/20 initiatives under way, Ithaca College plans to
encourage students to interact with the world off-campus and strengthen the on-campus community.
The IC 20/20 Civic Engagement and Service Learning initiative and the Residential Models initiative will create a framework on which Ithaca College can restructure the campus community for first-year students and change how students interact with the off-campus community as part of their courses.
President Tom Rochon announced the creation of the Office of Civic Engagement yesterday, a major step toward implementing the initiative and executing the curriculum overhaul laid out in the IC 20/20 plan.
The OCE will be a resource for professors interested in bringing CESL to their courses and serve as a liaison between the college and service opportunities in the community.
CESL is widely viewed as an important part of education by academic scholars and many institutions already have programs in place. The college has service learning-based courses, but most are limited and were independently created by professors.
Michael Smith, associate professor of history and environmental studies, who served on the civic engagement task force, has spent 11 years at the college working to get service learning incorporated into the college curriculum. He taught some courses already as part of the college's core curriculum pilot IC 2.
"Where the college is weak — and sort of has been weak since I've been here — is community-based learning models that are from a classroom perspective, linking community and classroom," he said.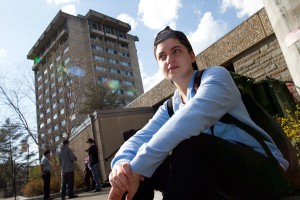 The task force's main recommendation was that the college create a center for civic engagement, which would be a resource for professors interested in bringing service learning to their courses and act as a liaison between the college and service opportunities in the community.
Patricia Spencer, assistant professor in the Department of Writing, teaches Grant Proposal Writing, a course that pairs students with local nonprofit organizations to develop a proposal for funding from philanthropic foundations. The course, taught at the college since 2003, is an example of service learning already in place, but without support from a central office.
In addition, Spencer was able to secure funding from the Provost's
office for a project to be part of IC 2. The program, which began this academic year, encourages students to develop and implement creative arts programming at the MacCormick Center, a prison for men age 14 through 21.
Smith said service learning is important because it takes students out of their comfort zone and places them in the real world to interact with working organizations, rather than learning theory in a classroom.
"When it's done well, you'll see learning outcomes that are hard to produce any other way," he said.
He said service learning does not fit all courses, but a center would help professors find the correct match.
Provost Marisa Kelly said the college wants to focus on service learning because it already has played an important role for students, but has not been institutionalized.
"As part of IC 20/20 now, we're saying that it's an institutional commitment to take something we've been doing some of and to really put that at the center of our mission, along with other important elements," she said.
Kelly said it will not necessarily be a physical office, but rather coordination between professors under the guidance of a director. The task force's proposal and some professors involved with service learning, however, want a physical center. Kelly said the office might have its own space if the college constructs a proposed Academic Center sometime in the future.
Spencer, who wants a center, said the design and implementation board will look at what works best for the college and submit a proposal to the administration.
Smith was also asked to be on the committee, which has not convened yet.
Smith and Spencer are part of the OCE Faculty Design and Implementation team, assembled by Anthony Hopson, assistant vice president for community/government relations and civic engagement, which will help develop a final proposal for the office.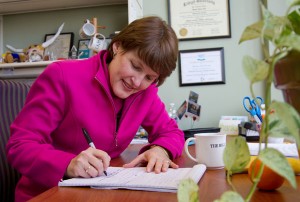 Spencer said the design and implementation board will look at what works best for the college and submit a proposal to the administration.
The college currently has a center the Office of Student Engagement and Multicultural Affairs currently has a center that helps coordinate co-curricular civic engagement and works with student organizations and individuals to arrange service projects.
Rochon's announcement said OSEMA will work with the civic engagement office to expand its service programs and develop collaborative programs with other universities.
Civic engagement is not a new concept to educational institutions. Campus Compact, a national coalition of more than 1,100 college and university presidents that promotes learning-based civic engagement, was formed in 1985. Despite being a member of the organization, the college falls "woefully short" of the coalition's benchmarks for having CESL in the curriculum, Smith said.
In January, the National Taskforce on Civic Learning and Democratic Engagement published "A Crucible Moment: College Learning and
Democracy's Future." The report, commissioned by the U.S. Department of Education, argued that civic engagement has declined across the nation and called colleges and universities to help their students
become better citizens.
The report stated "Campuses can be critical sites for honing students' civic knowledge, skills, values and actions, and for preparing them for lives of public purpose as well as employment."
Other elements of the proposal include consolidating summer orientation into one August session that would incorporate service projects. The task force set a goal of achieving the "best in class" award for community engagement from the Carnegie Foundation. The next opportunity to enter the college for consideration is 2015.
The college also looks to strengthen its on-campus community through the Residential Models initiative.
The Residential Models task force's main goal is to build a better campus life by revamping the housing experience for freshman and sophomores. The task force recommended the college expand its First Year Residential Experience, which currently consists of freshmen living together in Boothroyd, Rowland and Tallcott halls, and East Tower. The proposal suggests requiring all freshmen to live in the Towers and a few other Quad halls if needed. The Towers will be designated as all-freshmen housing beginning next fall.
Kelly said a sophomore residential experience is not currently a priority. The college is focusing on implementing a new first-year program before thinking about a sophomore extension.
Bonnie Solt-Prunty, director of Residential Life, said she has not been in communication with administrators since the task force submitted its proposal last March, though she understands the core curriculum should come first.
Kelly said the college is yet to review the housing initiative because it is currently not a priority.