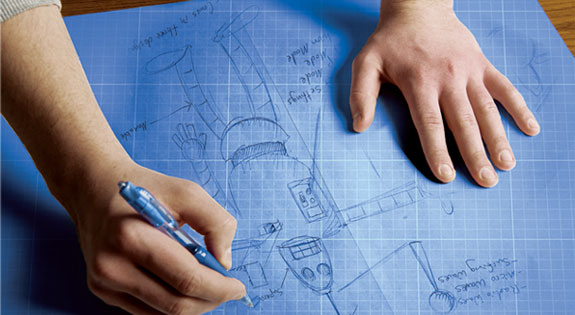 Every day, new products hit the market,  from the life-saving to the mundane. But for a nation that prides itself on innovation, the U.S. patent system was not aligned with the rest of the world until the process was recently reformed to help inventors better protect their intellectual property.
After 60 years, the U.S. government has altered the way inventors claim rights over their ideas with the America Invents Act. The move has stirred debate across the innovative world — from big corporations to colleges and entrepreneurs.
President Barack Obama signed the America Invents Act, H.R. 1249, on Sept. 16, and changes are being implemented until 2013. Key changes to the patent act include a fast-track option to speed up the approval process to 12 months, one-third of the previous wait time. The alteration is aimed at reducing the current backlog of nearly 700,000 patents and harmonizing the patent system on an international level.
The revision that has many people talking is the shift from a first to invent system to first to file, meaning anyone who files for a patent first gets it.
Because filing for a patent costs between $1,000 and $15,000 students with little or no income may be affected by the First to file clause. Some also worry that it will deter collaboration on work in fear of a colleague filing a patent first and claiming intellectual ownership.
Last semester, senior Tim Reynolds entered the Business Idea Competition with his business partner Brian Rettger '11 and came in second place. Reynolds and Rettger developed a rehabilitation device that would allow a person to monitor their injuries. Reynolds declined to go into further detail to maintain the privacy of the invention. He and his partner have not filed for a patent yet due to financial limitations.
"Since there is currently nothing that accomplishes everything that our device would do, the idea of a patent still a possibility," he said.
Because the design is complex, Reynolds said it would cost between $10,000 to $15,000 to get a patent, which is "more than college students have to put into a design."
When the plan first went to Congress over the summer, several colleges and universities across the nation sent a letter to Congress with concerns about how the new system will affect patents on a university level, especially regarding student-and-colleague collaboration.
Kent Millington, vice president for administration and director of technology commercialization at Utah Valley University, who signed the letter, said the first-to-file system will affect collaboration among students and business colleagues.
"There's always the concern that if I tell my collaborators, they may quickly file the patent," he said. "All kinds of new things benefit from additional sets of eyes and additional brains considering the invention."
He said much of the collaborations between colleges and colleagues may be limited because of this wariness toward sharing ideas. However, he said, people will adjust to the system in time.
"Overall, there's some very positive things to be said about it," he said. "In the interim, where we are currently, there will be some adjustments and some concerns."
Some students said they would rather skip the patent process altogether than deal with the complicated system and lengthy process.
Sophomore Shanshan Mei won first place in the product category of the Business Idea Competition for a portable screen cleaner she developed. She said she was discouraged from filing for a patent because she feels it is a waste of her time.
"Will other people copy my idea? Yes, definitely they will, but they can only copy me," she said. "Other people can copy me, but they can never be ahead of me."
Mei said she is still pursuing her business idea despite not filing for a patent.
Businesses and firms that deal with filing patents on a regular basis are already adjusting to the change.
Christopher Michaels, a patent attorney and CEO at Brown & Michaels, an intellectual property protection firm in Ithaca, said his patent office is seeing an increase in applications because of the recent changes. He said his office usually files between 50 and 200 patents a year.
"Things are going to go much quicker and much cheaper," Michaels said. "It's much cheaper, generally … to argue those things in the patent office rather than go in a courtroom."
Though there is an upswing now in applications, Michaels said he expects the surge to level off in the next few years.
The act is being lauded by the Obama administration as a way to expand the economy, create jobs and bring inventions to the market sooner.
"Here in America, our creativity has always set us apart, and in order to continue to grow our economy, we need to encourage that spirit wherever we find it," Obama said in a press release.
Ryan Fitzgerald, corporate development manager at e2e materials, an Ithaca startup that deals with sustainable alternative wood products, said his company has been vigorous about filing patent applications — nationally and internationally — since its inception.
"In today's modern business environment
everything's global, and although we're a young company in upstate New York, we believe we have a lot of potential and have great ambitions to grow into a much larger company and one day could foresee selling our products across the world, and we want to be protected around the world," he said.
The new patent system follows an "if you snooze, you lose," model, Fitzgerald said.
"You've got to be the first one to file it," he said. "You have to be ready to pull the trigger and make a decision about whether to move forward and spend some money and pay to have this patented."
Andy Cohn, director of government relations at the Wisconsin Alumni Research Foundation, who originally disagreed with aspects of the bill,  such as prior user rights, said the America Invents Act has been passed and there is nothing to do but go forward.
"We have to work in the structure that the new law provides," he said. "We may not be happy with every bit of that, but in order for us to be successful we have to adopt the new scheme, and we are working very hard to do that."