In his 25 years of employment at Ithaca College, Paul Hamill, director of Grants and Sponsored Programs, has taken on many roles — from helping the college receive grant money to sharing his passion for poetry with the community.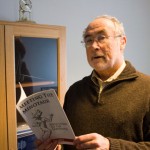 Paul Hamill Poetry Reading (Audio)
Hamill announced his retirement on Dec. 31 and left his position Wednesday after working 25 years for the college.
He said he is ready to move to the next chapter of his life, and the college could use someone with a new perspective in his position.
"My wife and I want to spend more time traveling and visiting our children and our grandchildren," Hamill said. "There is a new leadership at the college, and it's a good time for them to bring new blood in to see things in new ways."
In addition to his work at the college, he was the Tompkins County Poet Laureate from 2007 to 2008. He has had four collections of poetry along with approximately 100 poems published in journals and magazines.
"I write about matters that I want to think about," Hamill said. "My writing has included everything from reflections on my children growing up to reflections based on my childhood life in the country."
During his time as poet laureate he focused on creating programs accessible to senior citizens, such as workshops and readings in the Tompkins County Library.
Though he was originally hired as the first associate provost, he said the largest influence he has had on the college has been through his work with developing grant proposals. After two years of being the associate provost, Hamill created the department of Grants and Sponsored Programs.
Eric Robinson, associate professor of mathematics, has worked to acquire many grants with Hamill, including one from the National Science Foundation that funded one of the first computer labs on campus.
Encouraging faculty to pursue their ideas by saying things like "Go for it" or "I think we can make this work," Robinson said Hamill carried no shortage of positive energy.
"Overall, my relationship with Paul was transformative in my career," Robinson said. "My characterization of [our] interaction was that he was always genuinely interested in the making what he felt good ideas happen."
After about a year and a half or two years of being the associate provost, he created the grants office.
Hamill said he personally helped to raise $55 million out of the $125 million raised through the Department of Grants and Sponsored Programs.
He believes grant money is necessary for a college to innovate, specifically in the science department where time and equipment for research experiences take more money than the college allots them.
Hamill's engagement and sincere interest in the projects of faculty inspired Robinson to follow his ideas.
"I always felt like pursuing something because I felt supported at the institution, a large part being because of Paul," Robinson said. "He knew what I was doing. He really understood what my projects were about and took that upon himself so that he could support them to the best way he knew how, which was always stunning."
Hamill recently has been instrumental in the creation of sustainability-related curriculum, securing the grant to create the Humanities and Sciences Freshman Seminar program and establishing the gerontology institute. Programs like this will affect the college for years to come.
Shelley Semmler, vice president of Institutional Advancement, has been Hamill's superior since 1997. She said her work with him has helped her to better understand the college.
"The impact [he had] was strong because he was helping to create the future of Ithaca College," Semmler said.
Beyond his work related to grants, in the '90s, Hamill began teaching one course a semester. He was glad he had an opportunity to teach his true passion — writing. He has taught Introduction to Poetry as well as composition classes throughout his career.
"If you're pushing papers as a bureaucrat you may have a nice chance to meet some of the faculty but you don't have a chance to meet any students," Hamill said. "So my way of getting to know the students is to teach. The students are what the college is all about."
Before he worked at the college he was assistant provost at The College of Charleston in Charleston, S.C. He has also taught at Moorehouse College, Indiana State University and Temple University.
Of his many fond memories at Ithaca College, Hamill said meeting his wife, Kristin Hamill, the former coordinator of student publicity, is probably his favorite. He said he also enjoyed projects relating to sustainability and digital humanities.
"When I have worked with the faculty, I've enjoyed seeing their curiosity and their intellectual passion," Hamill said. "When you're working closely with someone who is trying to get funding for a piece of work, you see the intensity with which they want to do that work and the creativity with which they created their project. It has been a great pleasure, sharing a piece of the excitement."