Rachael Maier '06 graduated from Ithaca College ready to jump into the job market. She wanted to become involved with public service, but after graduation she found herself living with her parents and dipping into her savings to finance necessities. As she had throughout college, she worked several odd jobs, preparing for the onslaught of student loan payments she would face in six months.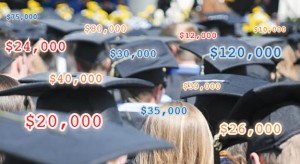 Despite paying off the interest rates in college to help defray the cost of her loans, she graduated with about $26,000 in student loan debt. Five years and one loan deferment later, she faces a debt of about $20,000. She said it's a monthly struggle to cover basic living expenses, let alone make loan payments.
"I'm saddled with about $400 in student loan payments a month," she said. "That's kind of scary because, on top of trying to make the rent, you think, 'Oh, yeah, and I also have to try to make my student loan payments once a month.'"
Maier's predicament is not a rarity, as debt among college graduates stands at record levels.  According to an October 2010 report by The Project on Student Debt, in 2009, students earned an undergraduate degree with an average of $24,000 in federal student loan debt. In 2004, the average debt was $18,650. Among New York colleges and universities, the average college graduate faced nearly $26,000 in federal student loan debt, ranking 11th highest among the country's 50 states and the District of Columbia.
The average Ithaca College graduate of the Class of 2010 faced more than $20,000 in federal student loan debt. This number, however, does not take into account private loans, which are not government-subsidized and are secured through a private lender.
Nate Viebrock '05 said he graduated with about $12,000 in undergraduate student loan debt, which he said he believes is relatively low compared to fellow graduates.
Viebrock now attends the University of Georgia School of Law and said he expects to face around $120,000 in student loan debt after commencement in May from both undergraduate and law school.
Viebrock said he's not overly concerned with his high debt number because, as an aspiring public interest lawyer, government programs exist to help public service employees pay off federal student loans. Viebrock said he plans on putting a maximum of 10 percent of his income toward student loans for the next 10 years.  He said the government will then erase his remaining federal loans as part of the College Cost Reduction and Access Act of 2007.
"If I was paying out of pocket for all the loans I have, it would probably be at least 20 years before I paid them off," he said.
An Income-Based Repayment plan enacted into law July 1 may help graduates manage their debt. If a student pays federal loans under the IBR for 25 years as well as meets certain conditions, the government will then forgive their remaining loans. To qualify, students must have "partial financial hardship."
John Connelly '06, a writing major, said the current state of the economy coupled with his student loan debt is forcing him to consider giving up his passion for a more financially stable job to pay his bills.
"Whether writing as a profession is going to be financially viable, I do question every day," he said.
Connelly declined to provide an approximate number for his student loan debt but acknowledged that it influences his career options moving forward.
"Honestly, it's come to a point in my life where every financial decision is made around bills and being able to get by," he said. "There's not a day or week where I can go buy and spend like Donald Trump."
Kathryn Edwards, a research assistant at the Economic Policy Institute in Washington, D.C., specializing in young adult economic issues, said despite higher debt numbers, a college education remains an easy sell because of its long-term benefits.
"We know from many years of historical data that, if you go to college, you're more likely to get a job with a pension," she said. "You will, on average, have a higher paying job than those who did not go to college, even if you're only enrolled for a few years."
A September 2010 survey conducted by the National Association of Colleges and Employers predicts an uptick in the projected job market for 2011 graduates.
Employers that participated in the survey expected to hire 13.5 percent more new graduates this year in comparison to 2010.
Senior Liana Garcia-Osborne, an English major, said she estimates her upcoming student loan debt to be around $80,000 but said she does not regret the decision to enroll in college.
"I'm in the mind-set where things are going to work out," she said.  "I'm probably going to be paying back loans for a big chunk of my life."