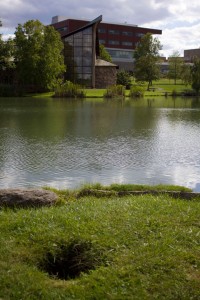 As remembrance services for the ninth anniversary of Sept. 11 proceeded this year, one thing was missing on Ithaca College's campus. The peace pole near the Muller Chapel pond was reported missing to the Office of Public Safety at 3 p.m. Monday.
Investigator Tom Dunn said there are no suspects at this time, and the motives behind the act are also undetermined. Dunn said the Office of Public Safety is still investigating the incident.
"We're looking for the community's help as to where it is and what happened," Dunn said.
The peace pole has been a part of campus memorial services since it was installed eight years ago. The college chaplains purchased the peace pole as a way to commemorate the one-year anniversary of Sept. 11.
The pole is inscribed with the words, "May peace prevail on Earth" in eight different languages  and includes a plaque which lists alumni who lost their lives at the World Trade Center.
While Public Safety officials  and the chaplains both said they didn't know exactly when the pole went missing, Michael Faber, Jewish chaplain and director of Hillel said he and Carsten Martensen, the Catholic chaplain, noticed its absence during the last few weeks of August.
They reported the missing pole to the Office of Facilities, which directed the report to Public Safety, Faber said.
The Office of Facilities confirmed it passed the report onto Public Safety, but did not return messages regarding further details.
Faber said he does not understand why such an incident would occur.
"It's like being wounded," Faber said. "It's not so much an outrage, but it's a violation, especially since it was a true memorial. It carried the names of the dead as well for this campus."
Faber said the Office of Facilities told him they would consider searching the bottom of the pond to see if the pole could have sank. Dunn said Public Safety will continue to investigate the case as they collect more evidence in the coming days.
Faber said those who witnessed the original commemorative service are frustrated with the peace pole's disappearance.
"It was one of the moreremarkable experiences in the many years I've been here," Faber said. "Even though that means nothing to the students today, some of us still carry that memory."
Faber said the incident reflects poorly on the quality of the college's campus community.
"It turns out to be very hurtful," Faber said. "In some ways the campus is diminished when something like this happens."