Before freshman Jen Biondi steps into the batter's box, just like most hitters, she goes through a routine. But unlike most hitters, her routine is a little unorthodox.
She snags the bat with each hand on opposite ends and reaches her arms back until she touches her bat to her backside — all without bending her elbows. She appears to dislocate her shoulders before swinging her arms around to a hitting position.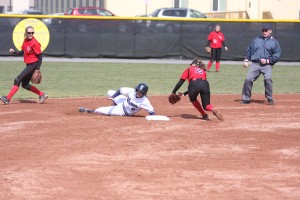 "We always joke around with her, 'Do the elbow thing, do the elbow thing,'" senior Katherine Wilson said. "She's got a good sense of humor about that for sure."
Biondi tends to leave her sense of humor off the field, though, with her stats showing the seriousness she puts into the game.
As of Tuesday, Biondi is hitting .345 with two home runs and 16 RBIs.
Long before putting on a Bombers' uniform, though, Biondi said she did not even know Ithaca College had a softball team.
"The first time I was here, the people showing me around said there wasn't even a softball team, so I had no idea that there was even a team," she said.
Biondi said Ithaca was always her No. 1 choice because of its atmosphere.
"I wasn't going to base my college decision off of softball, but it ended up [working out that way]," she said.
Biondi just recently switched her major to occupational therapy after starting out as a psychology major. She said after learning about occupational therapy in a psychology course, it seemed like a more interesting route.
"I had no idea about what O.T. was until I actually got here," she said. "This year I was taking a psych class, and they were just talking about O.T. I asked [sophomore Erinn Jacobi] — because she's in the O.T. program — I asked her a couple of questions about it, and I decided to switch."
On the field, Biondi is considered a five-tool player, as she hits for average and power, displays excellent speed, and throws and fields well.
Coming into the year, Biondi said she was nervous but said she thought back to her freshman year of high school to gain confidence.
"I remember my freshman year when I was in high school I hit horribly and it was just because I was so nervous," she said. "But now that I'm here, I knew that I could do that again. I knew that I could have confidence in the beginning because I wanted to be successful this year."
Despite being nervous starting her high school softball career, Biondi was named Star Ledger Player of the Year both her junior and senior years.
Biondi brought that confidence she gained from high school to college. She is one of only four Bombers to start in every one of the team's 30 games. In the Bombers' 18 games since spring break, Biondi has played at least one game at four different positions — each spot in the outfield and shortstop. While she's seen time at each position, she's predominantly been the Bombers' center fielder, with 14 starts there since the team's trip to Florida.
Biondi, who has been playing softball for as long as she can remember — starting with tee ball when she was about 5 years old — never played in the outfield before this year. Listed as a shortstop/second baseman, the middle infielder has needed to make the adjustment based on the rest of the Blue and Gold's lineup.
But with her natural athleticism and speed, she's developed a quick first step, which is the most important part of playing the outfield.
"It's been hard, but I actually really like the outfield a lot," she said. "I've been learning a lot."
Keith Heinemann, Biondi's softball coach at Morris Knolls High School in Denville, N.J., said even though she was a four-year starting shortstop in high school, he's not surprised that she has adjusted to the outfield so well.
"She picks up things fast," he said. "She's very coachable. You don't have to explain things over and over to her. She's a student of the game. She can go out there and do it with her athleticism. She tracked balls well as an infielder."
Biondi tends to be very quiet and goes about the game with seriousness. Junior Kait Dolan said Biondi always has focus in her eyes.
"She's pretty intimidating out on the field with her little batting stance," Dolan said. "She's all business when she's out on the field."
Off the field, it's another story. Dolan said Biondi is a "complete goof" who always makes everybody laugh with her stories, such as the one behind her high school nickname.
During a high school basketball game, Biondi was waiting to be announced, when suddenly she heard them call, "Jean Bodeen." She hesitated, but laughed it off and got up. The nickname has stuck ever since. When she steps up to bat, the Bombers constantly yell, "Let's go, Jean Bodeen."
Whether it's her or her alter ego at the plate or in the field, the Bombers can count on Biondi.
"She's always been coming up clutch this year," Wilson said. "If you need someone to do it, when she's up to bat you kind of breathe a little easier. You're like, 'All right, Jen can do it.'"