Updated Sept. 3
A driver lost control of a dump truck yesterday afternoon at the intersection of East State Street and Seneca Way, rolling off the road and landing on two parked cars outside the Community School of Music and Art, Deputy Fire Chief Thomas Parsons said.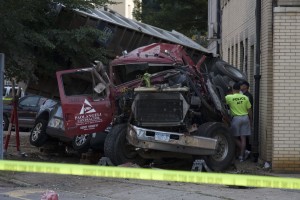 Ithaca Police identified the driver of the gravel-filled Paolangeli Contractor dump truck as Riney Whyte. He was transported by Bangs Ambulance to Ithaca High School and later airlifted to Robert Packer Hospital in Sayre, Penn. Whyte's current condition is unknown, according to the IPD.
"The driver was injured, but no other persons were found injured," Parsons said.
The Ithaca Fire Department said they responded to a 911 emergency call at about 3:30 p.m. yesterday. The Ithaca Police Department and New York State Police Department arrived on the scene shortly after.
Ithaca Police Chief Edward Vallely said the dump truck was traveling down East State Street at a high speed when its brakes appeared to fail. The CSMA building sustained heavy damage from the impact.
"He obviously lost control at the corner and crashed into a number of parked cars," Vallely said. "The driver was conscious when we arrived on the scene before he was transported to a regional trauma center."
Seneca Way was blocked off all afternoon, backing up traffic on East State Street and East Green Street.
Danielle Swift, who works at Sugar Shack Shaved Ice, a small stand a few buildings from the scene, said she saw the accident happen.
"I was serving a customer and I saw the truck come down State Street," she said. "I knew immediately something was wrong."
Swift said she grabbed her phone, called 911 and ran to where she heard the impact. She said she found the driver looking unconscious in his truck, pinned to his seat.
"I went up to the truck where the driver was and just stayed with him," she said. "Since [the truck] was up at an angle against the building, he was up higher. The passenger side door was open … he was slumped down and just bloody."
Swift said she stayed with the driver until help arrived about 3-4 minutes later.
"I just held his hand and talked to him and before too long he started moving." Swift said.
Police are still investigating the accident.