Andrea Smeltzer's laughter disrupted the silence of Textor Hall on Monday night, as her parents played a slideshow of her childhood. But Andrea, a Pitzer College student, was not among the nearly 50 Ithaca College students who gathered for the screening.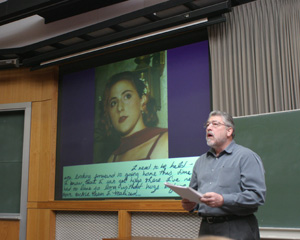 In 1999, after 13 months of bulimic behavior, 19-year-old Smeltzer died in her sleep. Her heart had stopped because of an electrolyte imbalance caused by the eating disorder.
The Smeltzers' presentation was part of the college's recognition of National Eating Disorders Awareness Week (NEDAW), which is officially Tuesday through March 3.
Priscilla Quirk, coordinator of the Health Promotion and Substance Abuse Prevention Program, said the purpose of NEDAW is to allow individuals to learn about eating disorders, to recognize symptoms and to become aware of the resources available on campus.
The three main types of eating disorders are anorexia nervosa, bulimia nervosa and binge-eating disorder, according to the National Institute of Mental Health. Women are more likely to develop an eating disorder, according to the institute, but nearly 35 percent of those with binge-eating disorder are men.
Quirk said she does not know the number of students who have sought eating disorder services at the college's Health Center, but she said approximately 62 percent of women on campus are trying to lose weight, according to a 2005 National College Health Assessment survey. Of the 685 respondents, 73 percent of the college's female students are in the healthy weight category, according to the Body Mass Index.
"[I] do know that concerns about weight and patterns of disordered eating are common among our students, particularly our young women," Quirk said.
Doris Smeltzer, Andrea's mother, said Andrea called her the first time she threw up. Two weeks later, Doris Smeltzer put her in therapy.
"Everybody said that she would heal," Doris Smeltzer said. "She died a year later."
Warning signs for victims of eating disorders may be hard to detect, Doris Smeltzer said. She said two of the most common indications include a drive for perfectionism and extreme sensitivity and vulnerability. She said Andrea thought throwing up was just a bad habit.
"She was well loved and was very ambitious," Doris Smeltzer said. "She wanted to save the world."
As part of the week's programs, Quirk said the college will offer anonymous screenings for eating disorders from 11 a.m. to 2 p.m. March 1 at the Counseling Center. She said the Eating Disorder Issues Group, a support group for individuals with questions concerning eating disorders, also meets at 1 p.m. Friday in the Counseling Center.
Group therapy can be a powerful form of support and treatment, said Alice Meilman, the group's facilitator and a counselor with more than 20 years of experience.
"Students report that the most beneficial aspect of being in the group is having a safe place to talk with others who understand first-hand what they are going through," Meilman said.
Meilman also said it is important for college students to be educated about eating disorders so the community can promote health on campus and to enable students to get the most out of college.
Kelly Fitzgerald, a senior exercise science major and a volunteer working for Quirk, said NEDAW is a chance for her to help stop the increase in eating disorders.
"We can let [students] know they have an outlet and that there are people looking out for them," she said. "They can seek any help for any sort of nutrition or diet problems and not be afraid."
Quirk said the current norms of society should take the blame for the increasing number of eating disorder victims.
"Society presenting super-thinness as being attractive is not a good message for young people to nourish their body," Quirk said. "Models who are a size zero do not depict what is natural because the average size for a woman is size 14, which is considered a plus size."
Doris Smeltzer said it is time society considers size diversity as important as racial diversity.
"We all come in various sizes," she said. "We cannot all be the same size. It's just not going to happen. We can't change our biological body. We think we can and we nearly die trying, or sometimes we do die trying."