President Tom Rochon recently announced the group of faculty, staff and students who will help shape Ithaca College's future.
Rochon will announce that freshman Courtney Ferguson and junior Catherine Kirchhoff will join the 16 faculty and staff members of the President's Advisory Council on Innovation who are charged with understanding what "creativity and innovation" mean in higher education.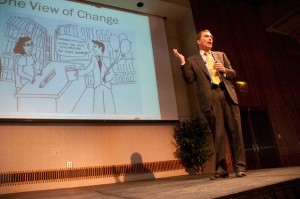 Council members include: Nicole Eversley Bradwell, Marian Brown, Lis Chabot, Nancy Cornwell, Bashar Hanna, Cynthia Henderson, Luke Keller, Shaianne Osterreich, Roger Richardson, Warren Schlesinger, Arno Selco, Bob Sullivan, Mary Tomaselli, Dave Weil, Dave Wilkins and Greg Woodward.
Rochon announced the establishment of PAC-I earlier this semester at January's all-college meeting as a possible way to find a solution to what he called a "crisis in higher education."
Council members will meet later this month to begin.
"I have two broad strategies for putting [Ithaca College] in the forefront of creativity and innovation," Rochon said. "One is to engage faculty and staff very widely in discussion of our mission and guiding principles. The second part is to create a group whose focused responsibility is innovation."
Rochon said the council, with the college's guiding principles in mind, will address organizational issues including how the college can "effectively and efficiently" shape the student educational experience.
Kirchhoff said she plans to address student concerns with the council.
"I hope to bring [issues] up to the council such as tuition prices [and] how to further bridge the gaps between academic schools on campus," Kirchhoff said.
Rochon has yet to set any specific project deadlines for the council, but he said he would like the entire campus community to become involved to avoid obsolescence.
"Student and staff members of the council will meet this spring, at least once this summer and continue to work in the fall, and at that point we will evaluate whether or not to continue the committee at all, and how we will turn over membership," Rochon said.
Rochon said that after receiving more than 70 nominations and consulting different college administrators he made the final decision.
Keller, associate physics professor, said he is excited to begin work on the council.
"I was excited to see the president talk in terms of innovation and creativity," Keller said. "That is what we need to solve these problems where general logic hasn't worked."
Cornwell, chair and professor of the television-radio department, said she believes the PAC-I will not become obsolete with the wide range of expertise among members.
"I am going to speculate that [Rochon] was looking for a wide range of experiences and perspective across the board from administrators, faculty and students to bring them to the table to really think broadly about how to realize the potential for this school," Cornwell said. "I don't think this has ever been done before, and it is extraordinary."