President Tom Rochon notified student media leaders and others Tuesday in an email that the student media policy implemented Oct. 1 has been rescinded.
The announcement comes in the wake of a meeting with student media leaders Nov. 5 to assess the impact of the policy's implementation thus far.
Senior Emily Miles, an editor of Buzzsaw Magazine, was one of the student media leaders who attended the meeting with Rochon last week.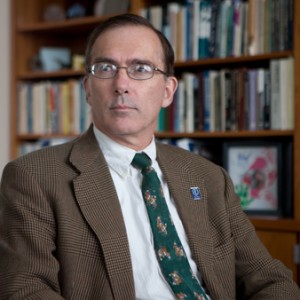 "What we really got to in the meeting the more campus wide effect of the policy rather than just looking at timing and effectiveness it really came down to how students feel about it," Miles said.
The policy received immediate backlash from the college community, including letters from faculty and staff, a Student Government Association referendum and an on-campus protest. The college's chapter of the Society of Professional Journalists also held a panel about the student media policy.
The panel included Dave Maley, associate director of media relations; Diane Gayeski, dean of the Park School; Wenmouth Williams, professor and chair of journalism; Miles; Kelsey O'Connor, editor in chief of The Ithacan and Nicole Ogrysko of WICB.Rochon said the conversations he had with student media representatives and the other panel members about their experiences with the policy were what most strongly swayed him to rescind the policy, rather than the protest and petitions that stemmed from the policy.
"They felt that the policy didn't treat them properly as part of the campus community because it equated them with off-campus media, and they felt that over time the policy could lead to less transparency to media-administration relations," he said.
Senior Rob Flaherty, president of SGA, said he's happy the president listened to criticism of the policy, but the repeal should not end discussion of how decisions are made on campus.
"I don't want the repeal to take away from broader discussions that need to happen on campus about the decision-making process here and the sort of perceived corporatization and centralization of campus," Flaherty said.
Miles said the implementation of the policy was a learning experience for both students and administrators.
"What we have learned as part of Buzzsaw and student media is that students felt threatened and concerned that the policy wasn't an effective way to contribute to the academic environment at a school where we pride ourselves on communications expertise," Miles said. "The policy didn't enable us to continue experiencing that in a productive academic way, and I think that is what students were afraid of."
Gayeski said though the policy created a great deal of concern on campus, it policy can be viewed as learning experience.
"What I've heard is that [the media policy] sparked so many discussions in classes and the SPJ forum," Gayeski said. "It was a way for students and faculty and staff to think about what's important to them, not in terms of journalistic rights, but the campus climate we want to create and maintain."
Jeff Cohen, associate professor of journalism, said the campus should be aware of the importance of their First Amendment rights.
"If we can't protect the fullest freedom of the press in a campus environment, we're never going to do it in a larger society," Cohen said.
Williams said he appreciates Rochon's receptiveness to the concerns expressed by students and faculty.
"I appreciate the fact that the president listened to us all and realized that maybe this isn't such a great idea and showed his respect for us by saying, 'You know, this is a bad idea, and I'm getting rid of it,'" he said.
Cohen said the community clearly expressed why the policy reflected a corporate approach and that there needs to be greater consultation with faculty in the future on similar matters.
"This is a real victory for democracy on campus and a real victory for all constituencies being heard," Cohen said.
O'Connor said she appreciates that Rochon took the time to meet with student media leaders and revisited the policy. However, she said, while the media policy has now been shelved, members of the community should continue to voice their concerns with campus issues.
"It really has been amazing to see the community rally around this topic and shows that students, faculty and staff can have an impact, and I hope that this spirit doesn't go away now that the media policy has been rescinded," O'Connor said.
Rochon said he does not plan to revisit the policy or implement similar ones in the future. In response to why faculty or students were not consulted before implementing this policy and others, he said he is moving forward.
"Life is a process of learning, and we will always move forward," he said.