Amid a new semester and presidential campaign, Ithaca College Republicans are taking to their club to discuss the primary and which candidate poses the biggest threat to President Barack Obama's re-election campaign.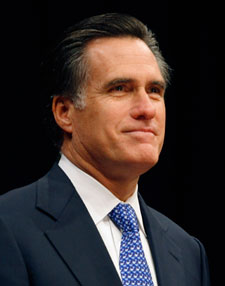 Though the campaign began with several nominees, including Rep. Michele Bachmann, businessman Herman Cain and former Utah governor Jon Huntsman, the GOP is left with four men standing — Rep. Ron Paul, former Speaker of the House Newt Gingrich, former senator Rick Santorum and Mitt Romney, current front-runner and former Massachusetts governor.
Ithaca College and its surrounding community is generally known for its left-leaning political ideology, but IC Republicans, an on-campus club of almost 40 members, offers a forum for students interested in the other side of the political discourse. The club has been discussing the potential nominees at its weekly Tuesday meetings throughout much of last year and this semester.
The group will not formally back any particular candidate, sophomore Stephanie Czajkowski, vice president of IC Republicans, said, but it encourages members to back any candidate of their choice.
"At the beginning, a lot of people were for Huntsman," Czajkowski said. "But now, it's shifting. A lot of people liked Ron Paul at the end of last semester. Some people like Newt. Everyone has a different opinion now."
Santorum stirred up the GOP race Tuesday, when he took second place in the race for delegates after winning Colorado and Minnesota. He has also won the Iowa and Missouri caucuses. In January, Huntsman withdrew his candidacy and endorsed Romney. So far, Romney has won the New Hampshire and Florida primaries and the Nevada caucuses, with Gingrich winning the South Carolina primary.
The party will formally nominate its presidential candidate during the Republican National Convention in late August in Tampa, Fla.
Don Beachler, associate professor of politics, said much of Romney's appeal rests in his electability.
"The establishment clearly believes that Romney is their best candidate," Beachler said. "He has the Wall Street connection. With Romney, [the general election] would be a very close contest. It would depend on the economy and unemployment rates."
Though many in the Republican Party have pegged Romney the front-runner, sophomore Joseph Kaz, secretary of IC Republicans, said he would like to see more of a debate within the party regarding which politician would best represent the Republicans in the White House, not just which one is most electable in November.
"That mindset is bad for any politics, saying, 'Oh, we don't really want to have any discussion about which candidate is right, let's just stick with the safe guy,'" he said.
IC Republicans will continue to discuss the primary throughout the semester, Kaz said, as the group's varying personalities, ranging from small government libertarians to more socially conservative thinkers, foster debate.
IC Republicans meets every Tuesday at 8 p.m. in Friends 302. and anyone can attend.