Matthew Sullivan, associate professor of physics at Ithaca College, was recently featured on "The Colbert Report" with his research on superconductors and magnetic levitation. During the taping earlier this month, Sullivan used magnetic levitation to keep a small tube of ice cream suspended in the air.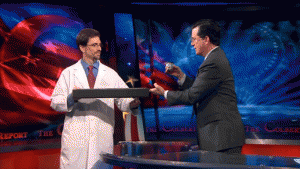 Staff writer Noreyana Fernando spoke with Sullivan about his experience on national television, his current research and the science behind the "floating" tub of ice cream.
Noreyana Fernando: How were you approached about being on the show?
Matthew Sullivan: Well, they found me through our YouTube videos. There is a YouTube channel Ithaca College Physics, and we had some videos up on our YouTube channel, and they found our videos. So it was Nov. 7 — they just called me up on that Monday shortly after I had gotten out of class. First, they asked me some questions about the videos or what I could do. I sent them some videos, and then they called me later in the day and asked me to come down to be on the show and try to levitate their ice cream.
NF: Describe your reaction when you first heard that you were going to be on national TV.
MS: I will say that I was not going to go. I was going to send my student instead because they weren't going to acknowledge Ithaca College in any way. It would have been a very attractive personal experience to see it but not a very attractive professional experience. So they called me again on Tuesday, and they changed it. They said they would probably be able to acknowledge Ithaca College in some way.
NF: Tell us a little bit about what happens behind the scenes on the sets of "The Colbert Report." How was Stephen Colbert in person?
MS: We met him twice — he came to the dressing room to see the prototypes that we had made and to make suggestions and to see what we could do. Then we saw him, of course, again in rehearsal. During the taping, it's kind of not the same thing. He was very focused on the audience actually during the taping. But during rehearsal, there was no audience, and in the dressing room, it was just the segment producer, me, my students, him and a couple of writers. When he came to the dressing room, I thought he was very interested and funny and liked the demonstrations and was amazed at what we could do and had lots of ideas of what he wanted to see on his show and suggestions for us to try. During rehearsal, he was actually very business-like in running his show and going through things and making suggestions and changes for the writers.
NF: What is the science behind making that tub of ice cream levitate? Did you have a superconductor in there?
MS: Yes, there was a superconductor hidden inside of it.