Anthony DiRenzo is standing in front of a class of freshmen who look like they just rolled out of bed. It's 8 a.m. on a Tuesday, and while his 12 students in Academic Writing I settle into the Smiddy Hall classroom wearing sweatpants and yawning, DiRenzo has been ready to go for hours.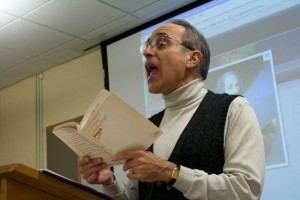 "What makes successful CEOs tick?" DiRenzo asks before dimming the lights to show a scene from Joel and Ethan Coen's "The Hudsucker Proxy."
And in a matter of moments — and a few more video clips — DiRenzo's students transform from tired college kids to lively, young intellectuals, starting a discussion that needs little prodding from the associate professor of writing.
It's the beginning of the day for his students, but DiRenzo, who has worked at Ithaca College for 20 years, has been on campus since 6 a.m., planning what music, movie clips and readings he wants to incorporate into his lessons.
Senior Ben Johnson, who is taking DiRenzo's Humorous Writing class this semester, said DiRenzo's teaching methods are different from other professors.
"It's as if it's a production," Johnson said. "Every class, it seems like he puts a lot of effort into it to prepare."
DiRenzo usually stays on campus until 7 or 8 p.m., working out the schedules for his three classes. It's a work ethic he learned from his parents, Philip and Maria DiRenzo, Italian immigrants.
Born in 1960 in Brooklyn, N.Y., DiRenzo and his sister Maria Teresa were raised in Freehold, N.J.
"Bruce Springsteen and I were beaten by the same nuns," DiRenzo joked. "The Boss got whacked for quoting Dylan during detention. I got whacked for reading 'Candide' during Confirmation class."
But the all-American life in the Garden State was foreign to DiRenzo. Surrounded by other Italian-Americans, DiRenzo didn't speak English until he started school and was teased by others for his accent.
"Anglo-America was another country that I needed a passport to go to every day," he said.
From an early age, DiRenzo developed an interest in his Italian ancestry — an interest that is still seen in his teachings and his own writings, such as his recent book, "Bitter Greens: Essays on Food, Politics, and Ethnicity from the Imperial Kitchen."
At 50 years old, DiRenzo is still close to his parents. His 80-year-old mother and father drove from Lakewood, N.J., to Ithaca for DiRenzo's reading of "Bitter Greens" on Sept. 25 at Buffalo Bookstore downtown.
Philip said it was a moving moment to see his son read from his published book.
"Everything he's wrote, including in childhood, we keep and have on file," Philip said.
Philip also said it was emotional to realize all of his efforts and hard work in life are what helped his son become who he is.
After being in the navy, Philip pushed carts of cloth up and down 7th Avenue in New York City, making sales to anyone interested. He eventually became a designer, making  $1,000 a week — enough to save up and send his children to college.
"That's why I have an education — all through my father's efforts," DiRenzo said.
DiRenzo graduated in 1982 from Syracuse University with a degree in telecommunications, but he wanted to be a novelist.
"My parents made it quite clear they would not subsidize my education unless I did something practical," DiRenzo said of his reasons for entering communications.
After a few stints in the radio industry, he became a professor at Syracuse University in 1990. He came to Ithaca the same year, teaching during the day and writing at night.
Senior Josh Turk, who is taking DiRenzo's Humorous Writing class, said DiRenzo brings a quirky attitude to the classroom.
"If you look past the crazy, you see an incredible amount of intellect," Turk said.
Johnson also said DiRenzo's intelligence sets him apart from other faculty members.
"He's an intellectual who teaches," Johnson said.
But Philip knew from an early start that his son would go on to become an intellectual.
"He was very studious," Phillip said. "Forever with a book in his hand as a kid. He was a quick learner and always wanted to learn more."
DiRenzo's love for writing still exists, but he said these days he considers himself a professor first.
"My identity is a teacher," he said. "And the writing part of me exists in the shadows."