Beth Ellen Clark Joseph, associate professor and chair of Ithaca College's physics department, has been selected to take part in a historic NASA mission to study and sample a near-Earth asteroid.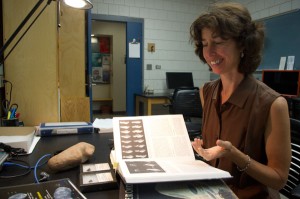 The mission, named Origins Spectral Interpretation Resource Identification Security-Regolith Explorer, will launch an unmanned robotic probe on a 3.5 billion-mile journey to the asteroid 1999 RQ36 in 2016. The probe will collect samples of rock and soil from the asteroid at designated sites and return to Earth by 2023.
"When I heard the proposal, I thought, 'Oh my gosh, this is it,"' she said. "'This is opportunity knocking here, and I have to answer it.'"
Clark Joseph said she will play the roles of a scientist and a manager during the mission. She integrates different aspects of scientific observations and works with five teams to ensure all science goals of the mission are fulfilled. She also selects the best sampling site for the probe and coordinates systems on the craft.
Fourteen colleges and universities across the country will participate in OSIRIS-REx along with organizations like the Goddard Space Flight Center, Lockheed Martin and the Johnson Space Center.
Clark Joseph has extensive experience studying space. After graduate school, she worked in Cornell University's Near-Earth Asteroid Rendezvous program and published several papers on asteroid science. She was also selected as part of an international team to take part in the Hayabusa mission that combined Japanese space program and NASA resources to launch a robotic probe and sample a near-Earth asteroid.
She has received grants from NASA to study the mineralogical composition of asteroids, and her articles have appeared in several science magazines.
Clark Joseph said many important discoveries could come from OSIRIS-REx. 1999 RQ36, is rich in carbon and has never been sampled before.
Past collisions between Earth and similar bodies could provide explanations as to how life on Earth began and how the planet was supplied with water in its early days.
"We've been looking at them through telescopes for 20 to 30 years, and now we finally get to hold a piece of one," she said.
The mission aims to study asteroid samples for clues to the formation of the solar system and extrapolate the findings from other star systems. Clark Joseph said she hopes to devise strategies to predict and prevent possible collisions between Earth and bodies like 1999 RQ36 in the future.
"We'll be spending time exploring, looking beyond what we know, doing new things in new ways and with new instruments and demonstrating new technologies," she said.
Clark Joseph said the mission also gives college students the opportunity to analyze and interpret data from the mission, both during the contact period and after the craft and its samples have returned to Earth.
"The idea is to involve students in every phase, even if we can't involve them in the whole mission," she said.
Clark Joseph will only be using undergraduate students, as opposed  to other institutions that only allow graduate students to participate in similar research.
"I hope that missions like this will inspire students and make them want to study science," she said.
According to NASA, the project's estimated cost is around $800 million, excluding the launch vehicle. Of this sum, Clark has been allocated $2.7 million to fund her participation and research efforts until 2025.
Matthew Price, assistant professor of astronomy at the college, said studying an untouched asteroid near the planet would provide answers to questions that other fragments fallen to Earth cannot.
"It's one of those things that changes everything," he said. "We spend a lot of time with telescopes and projects that look at things very far away, yet there's so much we don't know about our own backyard."
Luke Keller, associate professor in the physics department, worked in the NASA project Stratospheric Observatory for Infrared Astronomy, a 747 aircraft with a large telescope mounted on its main body that can take infrared images of distant stellar objects.
He said he is excited for Clark Joseph and the insight this new mission can offer.
"The work that Beth and her colleagues are doing is important because it will help us understand the origin of Earth, the other planets and ultimately our own origins," he said.