Adam Peruta, assistant professor of strategic communication, became the 16th athlete in the past 17 years to complete the Ultraman Double after finishing with a time of 29:17.44 yesterday at the Ultraman World Championships in Hawaii.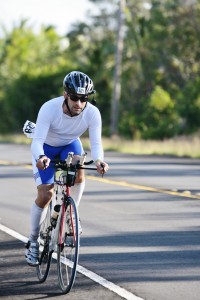 After competing in the Ultraman Canada from July 31 to Aug. 2, Peruta opted to attempt the Ultraman Double, completing two Ultraman events in a year. Leading up to the event Peruta raised funds for the Endure to Cure Foundation, a non-profit that donates money to organizations that focus on pediatric cancer patients. Peruta said the experience of the race was similar to Canada but the course was more challenging.
"Since I had already done one Ultraman this year, I knew what was coming in terms of the distances," Peruta said. "But dealing with an ocean swim and the heat here was something I was feeling apprehensive about coming into the race."
Peruta completed the three-day 318.6-mile event 44 minutes faster than his time from Canada and placed 19th of 36 overall. The Ultraman included a 6.2-mile swim in the Pacific Ocean, a 261.4-mile bike and a 52.4-mile double marathon. Peruta completed the double marathon in a time of 9:23.
Peruta said the weather conditions presented another hurdle he had to overcome during the race especially on the final 30 miles of the bike course.
"It's all exposed, cold, rainy and windy," Peruta said. "They said this day for us was the worst conditions they have seen in years. On the day three run, the heat was intense and constantly needed to be managed. My stomach did not do so well in the heat so my nutrition plan didn't go as I planned."
Peruta said the realization of being in such a select group of individuals who have completed the Ultraman Double hasn't set in yet, and he already has future endeavors in mind that will continue to challenge him mentally and physically.
"At some point in the next few years I would love to race Badwater — it's a 135-mile ultra marathon through Death Valley," Peruta said. "But first I am going to take lots of time to recover."