When Mo Baptiste traveled to Haiti as part of the earthquake relief effort, he never thought he would have to run for his life.
"Myself and four other people that went to Haiti in that group, we had to fight, we had to sneak, and it was like a real-life Amazing Race, mixed with all these other shows where people are running for their lives," he said.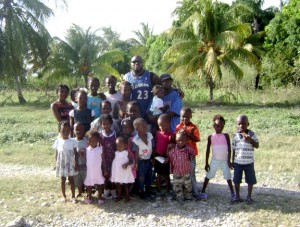 Baptiste, assistant professor of education at the college, thought he was taking the trip with an organization to provide help to earthquake victims — but he found out the organization was just a scam.
"I went with a corrupt organization that said they were there to help in the relief effort, but turned out to be a child smuggling scheme," he said. "I found myself as an outcast, because I did not go along with the scheme."
Baptiste took a second trip in October with World Water Relief, an organization that aims to improve human health through supplying access to clean water.
He will discuss his experience providing clean drinking water to children in Haiti during his presentation, "From Hostility to Harmony: Envisioning a New Haiti," at 6 p.m. today in Emerson Suites.
Baptiste said he wouldn't have become involved with the World Water Relief if it weren't for that trip in January.
After he realized the corrupt organization was not what it seemed, he and four other participants left the group and had to find their own way out of the country amid chaos.
Baptiste was using examples from Haiti in writing his dissertation on marginalized leaders when the earthquake struck Jan. 12. This coincidence hit him so hard he immediately wanted to return to his parents' homeland, he said.
"I knew right away I had to go to Haiti and help out," he said. "In what capacity, I did not know. How I would get there, I did not know, but I knew I had to."
Many of Baptiste's students and colleagues asked about the connection and, after telling the long story a few times, Baptiste thought it might be better to explain en masse.
Senior Shamika Edwards, president of the Caribbean Student Association, the group that invited Baptiste to share his story, said the presentation will update students on rebuilding in Haiti. She said while many may think the effort is going well because news coverage declined after the initial few weeks following the earthquake, this is not the case.
"We're nowhere near the end," Edwards said. "It's going to take a long time to get them really back on their feet. It's going to be a long haul and there needs to be people who are willing to do that over a long period of time."
Baptiste encourages attendees to bring reusable water bottles to his presentation so he can donate them and help make clean water the norm in areas he and the organization are implementing purification systems. Currently, Haitian children are drinking water from their hands, because they have nothing else. His goal is to collect 500 bottles by the end of 2010 and 5,000 by the summer.
Baptiste said small contributions like water bottles will help Haitians much more than trying to take over rebuilding efforts completely.
"There are people with good intentions who can make the situation worse," Baptiste said. "There are so many organizations going to Haiti right now saying that they're doing good things, but a Haitian scholar has said that some of it's neocolonialism."
He said supporting pre-existing programs, instead of starting new ones without input from Haitians, is a much better approach.
"What we can do is support existing initiatives and support existing efforts as a secondary source — not in the lead," Baptiste said.
Junior Sudie Ann Robinson, vice president of the Caribbean Student Association, said clean water projects are a vital part of rebuilding Haiti.
"Water is something that is essential to life," she said. "Without proper water, we can't survive. It's really something very crucial that should be dealt with immediately."
Robinson said students should attend the presentation to learn about the conditions Haitians are living in from a primary source.
"It's important for people to understand there are still people in Haiti who are suffering and for them to hear firsthand from someone who has been there and actually has seen the crisis speak about it and talk about his journey and how he's coping with the situation," she said.