The Native American Studies Steering Committee is encouraging the college to make changes in faculty, staffing and advertising in order to make Ithaca College more enticing to the native community and help enhance the college's diversity.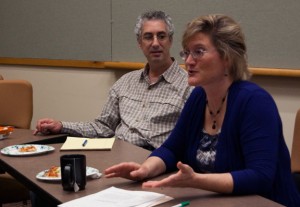 The program started in 2002 as a minor in the School of Humanities and Sciences. Brooke Hansen, Native American studies program coordinator and associate professor, said its goal was to recruit more native students and hire native faculty. Hansen said the college has lost sight of these goals over the years.
"All over campus you see ALANA, but the NA part has sort of fallen off, and we're trying to raise awareness about that," Hansen said. "We want to put the NA back in ALANA, and that can be done by just doing more outreach here."
Currently, 14 Native American students attend Ithaca College, compared to 353 Hispanic/Latinos, 206 Asians and 181 Black/African Americans. There are no Native American faculty.
Hollie Kulago, who grew up on the Diné (Navajo) Nation, came to the college last fall through the pre-doctoral diversity fellowship program for anthropology, which allows graduates dedicated to academic diversity to teach courses.
Kulago taught Teaching, Learning and Education in the Multicultural Southwest this semester, and said while a Native American community exists in Ithaca, a greater effort is needed to include the campus as part of that community.
"It needs a lot of work," Kulago said. "There needs to be a community set up where [Native American students] can be themselves and socialize with people that are similar."
Since Syracuse University offers free tuition to Native students through its Haudenosaunee Promise program, Hansen said the college is unlikely to recruit a more diverse student body.
Kugalo said offering more Native American scholarships would help attract students who want to attend the college but are concerned they may not get enough financial aid.
"When it comes to tribal funding, there's different application processes they need to go through when working with the tribal scholarship offices," she said. "Native American students need mentors there who really understand where they're coming from with their needs."
Native Americans are eligible for ALANA scholarships, but Jack
Rossen, associate professor and chair of the anthropology department, said many prospective students find those particular scholarships less appealing to apply for because of a lack of identification.
"They may be able to apply for them, but they don't identify with Martin Luther King Jr., like African American students do," Rossen said.
Freshman Kody Crawford, a Cherokee and Loyal Shawnee, said he hopes to start a student organization devoted to Native Americans.
"A lot of people seem to have misrepresentations of what and who Native American people are," Crawford said. "The students here are generally receptive to all diversity, it's just that they don't have a sense of what that is as it relates to Native American culture presently."