Videoconferencing technology is becoming a popular teaching tool in departments across Ithaca College. Within the last year, videoconferencing has begun to play a role in connecting students on a global level to educate beyond the walls of the campus community.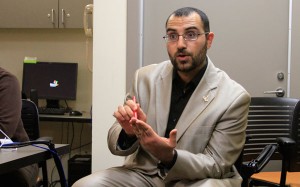 The Roy H. Park School of Communications and the Department of Modern Languages first launched videoconferencing programs in the  spring and received praise from staff and students.
Diane Gayeski, dean of the communications school, said she uses Skype as a main teaching tool in S'Park: Igniting Your Future in Communications, a one-credit course that electronically connects students to alumni and real-world professionals, such as ABC News Anchor David Muir '95.
During the S'Park session with Muir, a live Twitter feed was on the projection screen and then the call came in. It was received by 195 freshman, four instructors and one teaching assistant.
"It allows us to do things absolutely spontaneously," Gayeski said. "It gives people a lot of new ideas that they didn't have before, so having short presentations by a lot of people really works."
Students participating in S'Park also have the opportunity to tweet questions to notable alumni while videoconferencing with them.
Foreign language departments also take advantage of similar technology by connecting with Skype to people across the globe. Later they maintain the connection by emailing their homework assignments for peer review by an Iraqi student fluent in Arabic.
In the Department of Modern Languages, lecturer Hayder Assad organized a series of online Skype sessions that integrate Arabic language studies between students at the college and students attending the University of Kufa in Iraq. Students voluntarily attended hour-long sessions over a six-week period to learn more about the Arabic language and culture.
"Students had fun with it," Assad said. "They found new words and wrote down whatever they didn't understand during the session and were able to ask questions. They accumulated more vocabulary and picked up on accents in the conferencing that they don't get to hear in
the classroom."
Assad said the technology helps students gain knowledge in all bases.
"They're learning about culture, social aspects and mainly about education. They must learn this new system and know how to interact with people," he said.
After hearing of the successes from previous programs, professors in other departments across campus plan to introduce it into their curricula as early as next spring.
The James J. Whalen Center for Music is beginning to establish long-distance connections in the classroom through Skype.
Cass Barbour-March, a video and electronic broadcast technician at the music school, said Skype was used in this fall's convocation ceremony when its keynote speaker presented from his Florida office.
"We in the School of Music are excited about the potential and have our sights set higher," Barbour-March said. "While we may not be able to pack a large ensemble into a van and visit a middle school in Rochester or D.C., we can certainly use videoconferencing to bring up-and-coming musicians into our classrooms and vice-versa."
Amy Gerney, a new assistant professor of occupational therapy, said Information Technology Services has been welcoming and supportive of her future endeavors with the technology.
She said she hopes to expand on her previous experiences with videoconferencing and bring them to her students who can gain a new perspective on real-life work in the occupational therapy field.
Gerney used videoconferencing heavily in her graduate work in distance education at the University of Wisconsin
at Madison.
She said her primary goal is to bring content experts and clinicians in occupational therapy to speak with students through videoconferencing.
"There's absolutely no reason why you can't connect students with experts in the field with the technology that's available today," Gerney said. "To be able to interject this kind of technology and these kinds of individuals into the classroom brings an energy to the learning experience that is really valuable."