When Sabatino Maglione, professor of Spanish and Italian at Ithaca College, immigrated with his family to America from Italy in 1955, his grandfather offered him advice he still remembers today.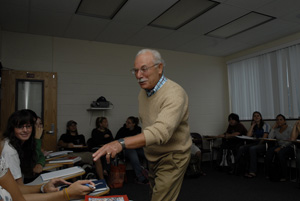 "America is a free country, but freedom comes with a responsibility," his grandfather said. "You will find in America wonderful things and things that might not be too appealing to you. But if you believe in yourself and are willing to put time into what you believe, there is nothing you cannot do."
Maglione, who was 16 years old at the time and did not know any English, said it was difficult to move to a new country, learn a new language and be separated from his friends.
He said during this time his grandfather's advice was encouraging.
"It translates into a very practical saying," he said. "Even if you fail, you pick yourself up and do it again — you will achieve anything."
In the 36 years he has been at the college, Maglione said the best part about teaching was motivating students to do their best.
"As a teacher you try your best to motivate them to do their best as well," he said. "That's something other professions don't have."
As a student, Maglione studied politics and Spanish at Fairleigh Dickinson University, where he received his bachelor's degree in Spanish. He said he became interested in the language through the works of Cervantes and Latin American literature.
Maglione earned his master's degree and doctorate at Pennsylvania State University in Spanish
Golden Age Literature. He also taught Spanish and Italian at Penn State and Dartmouth College. Maglione began at Ithaca College in 1971 and served as chair of the Modern Languages Department from 1985 to 1998. He is currently the only professor in the department to teach two languages.
Maglione has returned to Europe during summers and took a sabbatical to study at the University of Madrid in Spain and the University of Siena in Italy.
Rachel Samilow, a junior Spanish teaching major in Maglione's reading and writing in Italian course, said Maglione's immigration from Italy enhances his teaching.
"It was just interesting to hear his story and find out how he knows so many languages, since so many of us are just fluent in Spanish or English in his class," she said.
Maglione said to help students succeed, teachers need to use their experiences to find a way to make the material appealing to their students.
"Teaching is an art, it's not a formula," he said. "You learn the formula and you can apply it to every situation. Teaching requires fine-tuning every semester, every year."
He said he prefers the way language classes are taught because they are more intimate and allow his students to practice their oral skills through presentations and regular discussions.
"Although long lectures are appropriate for some courses," he said. "In our language courses we focus on interacting with individual students."
Samilow said Maglione has a gift for engaging his students.
"He's always very animated, which makes it very exciting for the students because when the professor's excited about teaching, his attitude [is] going to be contagious to the students," she said.
Amanda Kehoe, a junior Spanish and English major taking Maglione's Cervantes course this semester, said he creates an appropriate classroom environment.
"He finds a way to include everyone and makes everyone very comfortable," she said. "His plans don't seem really planned out or rigid or precomposed; it seems like a nice, casual forum for everyone."
Senior Dana Cizmas is in Maglione's reading and writing in Italian class. She said she liked talking with Maglione in Italian whenever they happened to meet on campus.
"He's a very sociable person, and he likes to talk," she said. "It's just very interesting to have him as a professor and also to interact outside the classroom."
Jane Kaplan, professor of French, said she respected Maglione's leadership of the department.
"There are a number of departments in which people are not friendly with each other and who don't help each other," she said. "Under his guidance, we have remained a very cordial department, a very friendly department," Kaplan said.
Maglione focuses on building relationships with his students as well. He said he keeps a box of Christmas cards, thank you cards and postcards he has received from his students in his office — in English, Spanish and Italian.
"It's nice to be in touch with the students," Maglione said. "Especially when you hear from them that you had a positive impact on their lives."