As digital processing takes the forefront in the field of photography, Ithaca College is adjusting its cinema and photography curriculum to mirror this shift.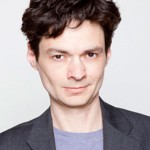 This semester, analog or film photography, which is any film processed in a darkroom, was removed from the program, and many chemicals will no longer be available in the photography labs of the Roy H. Park School of Communications.
The transition from analog to digital camera technology has been taking place in the program for nearly 10 years according to Steven Skopik, professor of photography at the college. Professors have tried to include both mediums in their curriculum to match the growing role of digital processing.
"The professors get together and reevaluate each semester to find out where and when students should be taking a look at analog and to what degree," Skopik said.
For the first time this spring, the introductory class will only be taught digital processing, though film will not disappear entirely from the program, Skopik said.
"Analog photography is holding on a little bit in some applications, so we've made an element of that in some of the upper-level classes," Skopik said.
He said most cinema and photography students who are not concentrating in photography do not continue taking the remainder of photo courses in the curriculum. The majority of students take the class as an elective or to fulfill a requirement for the cinema program.
Skopik said the intro photography course is an expensive class because film is high-priced. The intro class now requires students to have their own digital camera as opposed to film, and though the expense is not a major consideration in the curriculum change, it does play a factor in how the professors plan to alter the class in the future.
Many of the chemicals will no longer be available once major film companies begin to eliminate their products from the market due to lack of demand.
Freshman Karalyn Mark, a cinema and photography major, said it's unfortunate other students taking the class will miss out on the hands-on experience of developing prints in the darkroom, but she said digital also offers a lot of room for creativity.
"I love experimenting with digital cameras because I'm able to see the results immediately," she said. "With digital cameras and editing software, the possibilities of what someone can create are endless."
Senior Mitchell Murdock, a cinema and photography major, began a film project in 2008 taking a photograph of one different person per day. Murdock is still continuing the project and spends nearly all of his free time in the lab.
"With digital photography, there's something that is lost," he said. "You only have so many shots you can take with film. With digital you can snap away and take one hundred shots and have few turn out perfect. With film, every mistake counts for something."
Murdock said he is satisfied with his film experiences at the college and encourages other students to not completely abandon film photography.
"Take some shots and send them to a lab to be developed," he said. "The most pleasing photos are ones that have been shot on film and look like they have heart."