After Ithaca College sophomore Shane Galley had difficulty footing his tuition bill for school, he took off the second semester of his freshman year to work and earn money to pay for college. Since returning to campus, Galley picked up working 20 to 25 hours a week at Starbucks to save for school.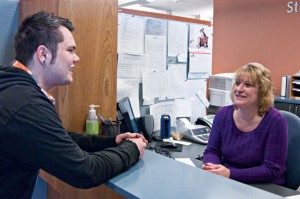 "Mostly if I want to be here, I have to do it for myself and work for it," he said. "Working a part-time job restricts me from doing extra activities on campus, so it gets pretty hard."
Galley said he gets scholarships and a $5,550 Pell Grant, a federal financial aid initiative for low and middle income students. He saves $8,000 he earns from his part-time job for next year's tuition bill.
But, with a recent Republican proposal to slash $5.7 billion from the Pell Grant program circulating through the federal government, Galley and other students across the nation are worried that affording college could become even more difficult.
These potential cuts are part of H.R. 1, a larger spending bill that pushes for $61 billion in cuts from all areas of government. The House of Representatives passed the bill last month, but it was rejected by the Senate. Now, the federal government operates under a temporary resolution until both Congress chambers draft a new budget resolution.
The budget proposal includes a plan to reduce the maximum Pell Grant award of $5,550 by $845, as well as eliminate the program entirely for about 10,000 students.
Pell Grants are determined by a student's financial need, tuition and plans to complete the degree as a full- or part-time student.
Speaker of the House John Boehner said spending cuts are crucial to reducing the federal debt in a press release last month.
"Cutting federal spending is critical to reducing economic uncertainty, encouraging private-sector investment and creating a better environment for job creation in our country," he said.
Rep. Maurice Hinchey (D-NY) spoke out against Pell Grant cuts during a visit to Cornell University on Monday. Besides expressing the importance of investing in education, Hinchey said the cuts would it make it difficult for 2,200 Cornell students afford tuition.
Mike Morosi, press secretary for Congressman Hinchey, said more than 14,000 college students in the 22nd District receive Pell Grant aid.
"We're going to work to make sure that in that process, these cuts to Pell Grants are something that aren't considered and aren't on the table as we negotiate a final plan," Morosi said.
If the budget is passed, Galley said he plans to look for off-campus housing to offset the costs of living at the college or may be forced  to transfer to a less expensive school.
"I don't want to do that, but you have to do what you have to do," he said.
Anthony Hopson, assistant vice president for community and government relations, said 22 percent of the student body receives a Pell Grant. He said losing significant funding to the grant program will make college less affordable for students.
"Ithaca College and other colleges are very concerned about the ability for students to attend next year," Hopson said. "The biggest impact is on accessibility to students, particularly those students who rely on grants or financial aid to attend school."
Since many students at the college make plans to fund the next year's tuition the year before, Hopson said he is concerned the cuts could force students not to attend and would impact the type of services the college provides.
The Office of Student Financial Services declined to comment.
Hopson said the college has reached out to state and national governments and expressed it is not in favor of the grant cuts.
Junior Alex Canovas said he pays his tuition through a variety of scholarships, federal aid and a Pell Grant.
Canovas said these potential cuts would force him to find other options to pay for his senior year of college. Since his major in the music school has strict requirements, Canovas said he wouldn't transfer elsewhere.
"I've finished enough of school at this point that I possibly might just drop out and not finish my degree and just see if I could perform," he said. "It would change the path of my life greatly."