Diversity, sustainability and a collective college identity were all subjects covered by provost candidate Mark Gromko as he met with students, faculty and staff earlier this week.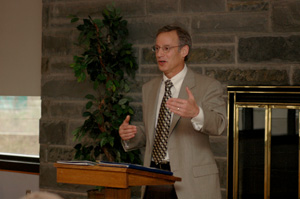 Gromko, interim provost and vice president for academic affairs and vice provost for academic programs at Bowling Green State University (BGSU) in Bowling Green, Ohio, was the last of the three provost candidates to visit Ithaca College.
While visiting the campus, Gromko spoke at three sessions open to students, faculty and staff Monday and Tuesday about his qualifications and background in institutions of higher education and his visions for the college. Gromko also met with the Faculty Council executive committee and provost search committee.
The search committee began its search for a new provost in February after Provost Peter Bardaglio announced in January his plans to take a sabbatical and resign in May. Jim Malek, provost of the college from 1998 to 2001, began as interim provost in February and will serve in his position until a new provost is hired.
One student attended a noon session Monday and about 20 faculty and staff members attended the second open session later that day. Three students and around 30 faculty attended Tuesday's session.
At the sessions, Gromko, whose background is primarily in population studies and biology, emphasized the importance of sustainability and suggested integrating it into an interdisciplinary studies program with diversity and peace studies. The fusion of different disciplines to create a common identity for the college was also a recurring theme in his presentations.
"I hope to put people together in different ways to support one another," he said. "The strengths of the different schools leave sort of a doughnut hole in the identity of the college."
Gromko also spoke about his personal management style, which he described as 80 percent interaction and 20 percent decision-making.
"I don't like to make uninformed decisions," he said. "I just try to be real with people."
Josué Cruz, dean for the College of Education and Human Development at BGSU, said Gromko works hard to create positive working relationships with everyone he encounters.
"He's always been a hard worker and has been very attentive to his job," Cruz said. "He doesn't miss a beat."
Cruz also said Gromko was a key player in developing the BGeX program, which requires all incoming students to take a handful of entry-level courses from different disciplines that incorporate the core values of BGSU.
Sophomore Tristan Fowler said Gromko explained his intentions well and sold him on many of the ideas. One idea of Gromko's Fowler said he liked was to have students from different clubs and organizations video tape what they are doing to create a more knowledgeable and collective community.
"Coming to this [session] makes me wish I could have seen the other candidates," Fowler said.
Maura Stephens, editor for Ithaca College Quarterly magazine, attended Tuesday's session and said she was impressed by Gromko's people skills as well as his academic credentials.
"He was very thoughtful and thorough," she said. "It was clear he had done his homework about the college."
Now that all three candidates have had a chance to meet with faculty and students, the search committee will meet and review evaluations submitted by those who attended the open sessions, said John Krout, head of the committee and director of and professor in the gerontology department.
Krout said once the committee has convened and reviewed all the candidates, they will make a recommendation to President Peggy R. Williams and she will make the final decision for the fall.