The value of a liberal arts education, sustainability, and student and faculty involvement in decision-making were all topics addressed by provost candidate Kathleen Rountree when she met with students, faculty and staff this week.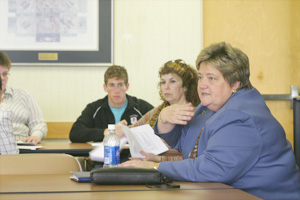 Rountree, associate provost for undergraduate education at the University of North Carolina at Greensboro, is the second of three candidates to visit the college.
During her visit, Rountree spoke at three open sessions for students, faculty and staff regarding her experience in collegiate administration and her visions for the college. She also spoke with the Faculty Council executive committee and the provost search committee.
The search committee began its search in February after Provost Peter Bardaglio announced his plan to take a sabbatical this semester and resign in May. Jim Malek, former provost at the college from 1998-2001, is serving as the interim provost. David Gordon, associate provost for personnel and diversity at SUNY–Geneseo, visited campus April 16 and 17.
Monday's open session for students yielded no attendees. Nearly a dozen faculty attended an open session later that afternoon. Three students and 35 faculty and staff members attended Tuesday's meeting.
During the sessions, Rountree said she felt the college was a good match because of its mix of professional education opportunities and liberal arts values, two things she said she hopes to continue by initiating discussions with faculty and students.
"I've found that when you start a discussion with 'wouldn't it be great if … ' the ideas just fly," she said.
Rountree, who studied music as an undergraduate at East Carolina University, said building relationships with faculty and students is crucial to being successful in any higher education setting. She added she would be interested in having regular meetings with the Student Government Association (SGA) and other community members interested in contributing to the discussion.
"I know there are some people who seem like they've been given the big answer book in life," she said. "But I haven't, and I need everyone's help."
Rountree, who has served as a dean and professor both at the University of Northern Colorado and Louisiana State University, said student success also is important to her.
"I bask in student achievement and success," she said.
Edward Uprichard, provost and vice chancellor for academic affairs at UNC at Greensboro, who has worked with Rountree for about three years, said she makes sure to get input from everyone before making decisions.
"She tries to bring people together," he said. "[She] listens to what they have to say about issues before making a decision, but once the decision is made, she's not afraid to take action."
Uprichard said Rountree has started many programs at UNC at Greensboro, most notably the International Honors College, in which students are required to study a language, take courses with a global perspective and travel abroad.
Lee Byron, associate professor and chair for the Department of Theatre Arts, attended Monday's second session, but declined to comment on Rountree or how he thought the session went.
"The process [of selecting a new provost] is really mid-process right now," he said. "It's hard to know in terms of what criteria, what specifically we're looking for."
Byron also said he thinks the open sessions are important because they create opportunities for everyone to have a voice in the selection process.
Aaron Bloom, a junior biology major and SGA senate chairman, said though Rountree's expertise is music, she seemed interested and eager to work hard to incorporate campus concerns into her position.
"She was really genuine and spoke very eloquently," he said. "She seems to really care about students, too."
The final candidate, Mark Gromko, interim provost and vice president for academic affairs at Bowling Green State University in Ohio, will visit campus Monday and Tuesday.