Last weekend, seven vehicle entries and four larcenies were reported to Public Safety. Investigator Tom Dunn said all of the crimes took place in and around the Circle Apartments. Items stolen included GPS devices, tools and iPods.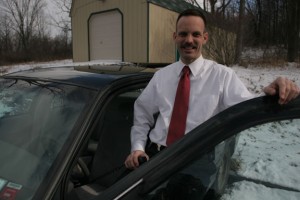 In addition, a 2006 blue-green Chrysler PT Cruiser with New York license plate number EKG2293 was also stolen between Feb. 18 and 20.
"There were no signs of forced entry in the vehicles," Dunn said. "So we want to encourage people to be cautious and lock your vehicles."
Senior Erik Lyons, a resident of the Circle Apartments, said he went outside Saturday night to find that his Honda Civic had been broken into and two items were stolen.
"As soon as I opened my car, my glove compartment was open, the center console was open, my manual was thrown around and all my documentation was spread around the seat," he said. "It was obvious someone went through there."
Lyons said he never leaves his car unlocked and even if he does, the car will lock automatically after five minutes. Lyons said he was fortunate nothing irreplaceable was stolen — only a Swiss Army knife and an old jacket.
Though he said it was obvious the car was broken into, there was no sign of forced entry.
"There were no marks, no scratches, nothing," Lyons said. "Whoever did it knew what they were doing."
Dunn said it is unclear whether any of the incidents are related, but investigations are underway.