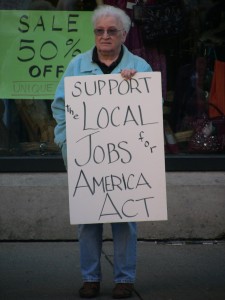 A rally declaring a national "jobs emergency" was held Wednesday at the Bernie Milton Pavilion on the Commons, calling for living wages and fair employment in response to the high level of joblessness across the country.
The rally, organized by the Unemployed and Underemployed Support Group of the Tomkins County Workers' Center, called for changes in economic policies and support for those struggling to find employment. The event was part of Jobs With Justice, a national campaign for workers' rights, which declared Sept. 15 a national day of action.
"The main focus is that there is a jobs emergency in this country, and there are record numbers of unemployed," Linda Holzbaur, an organizer of the event, said. "There are also people not counted in the unemployment numbers, such as the underemployed. We have a lot of those around here."
One of the campaign's goals is to pass the Local Jobs for America Act, which would set aside federal funds to invest in local communities and call attention to what the organization sees as a tax policy that benefits the wealthy over working and middle-class people, Holzbaur said.
"A lot of us do feel that it would be great to go back to the depression-era public works programs, where you had people who need jobs actually fixing roads or fixing the gorge walk, a lot of things that were really benefitting us," Holzbaur said. "The other thing is that over the last 30 years or so, the ultra-rich in this country have paid less and less in taxes."
Speakers at the rally included Pam Mackesy, a Democratic candidate for the New York State Senate, who called for government assistance for struggling families, and Councilman Dominick Frongillo of Caroline, N.Y, who spoke about a new green initiative to alter the current jobs landscape.
Members of the workers' center also spoke about the struggles they're facing in the backdrop of the Great Recession. Emily Sosna, graduate of SUNY Cortland's veterinary program, said she found a job in Seattle, but was laid off six months later. She returned to Ithaca last year, only to find that entry-level veterinary jobs were scarce.
"They want you to have experience, but how do you get experience when no one is hiring," she said. "It doesn't make sense."
Kathleen Batey, a local activist, said the rally was a way for her and others to demonstrate their rights as citizens.
"I'm very concerned with what is happening in my country," she said. "I don't think that anything we do is going to keep our country from becoming a third-world country, but as long as I can support freedom of speech, and exercise my right to peaceful assembly, I'll do it every chance I have."