The 2011 Relay For Life at Ithaca College drew more than 880 participants and raised $73,381 for the American Cancer Society on Saturday. The event, which was held in Ben Light Gymnasium, marked the first time Ithaca College hosted Relay for Life independent from Cornell University.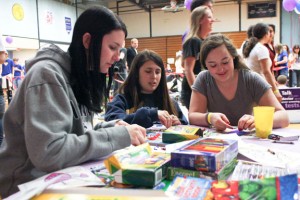 Relay for Life is an overnight walk and fundraiser to benefit the American Cancer Society.  The college's relay, one of many nationwide, lasted from 4 p.m. Saturday to 4 a.m. Sunday.
Last year the college hosted the event with Cornell at Barton Hall, raising more than $150,000. Cornell will hold its relay April 30 and has raised more than $58,000 so far.
Shari Kaplan, co-president of the college's Colleges Against Cancer chapter, said the college split from Cornell University this year because Barton Hall was not available that day. Though there were fewer total participants this year Kaplan said the split didn't cause any other problems.
"Our numbers are less because we're not two campuses coming together, but other than that the event really has stayed the same," she said.
Sophomore Cristin Carlin, who worked with stage management for CAC, said since the college hosted the relay independently, it was able to market more effectively. Carlin said having the relay at the Hill Center also made it more accessible to students at the college.
"We get a lot more of our own students because getting to Cornell is a hassle," Carlin said. "Now it's here, so they have no excuse not to come."
CAC opened the rally with a video showcasing students and faculty who have survived cancer. Following the video, cancer survivors were asked to take a lap around the track in honor of their struggle with the disease.
To keep participants energized, CAC planned several contests and activities, including toilet paper mummification, a pie-eating contest and tie-dyeing.
The centerpiece of the event was the Luminaria ceremony, during which white paper bags that were decorated by students were lit with glow sticks to commemorate cancer patients and those who died from cancer. Students were asked to stand and walk if they knew anyone who had cancer. Of the hundreds who attended, there were only six who remained sitting.
During the Luminaria ceremony, many students held hands, some of them crying, as Ithacappella performed Simon and Garfunkel's "Sound of Silence."
Senior Meghan Swope, co-chair of team recruitment for CAC, said the ceremony promotes solidarity among relay participants.
"It helps people understand they're not the only people going through what they're going through," she said.
This year's relay was particularly important to seniors Jared Vinci and Michael FitzPatrick, who jogged around the track while many others walked.
"I ran just spur of the moment last year," Vinci said. "This year, I started raising money. My best friend from back home told me that he just got diagnosed with skin cancer. He's only 22 years old, and it got caught late."
FitzPatrick said he was in a similar situation, and trained with Vinci to prepare for the relay.
"My grandfather just passed away last year," he said. "Last year I watched Jared run 20 miles, so we decided we were going to train for this and run 20 miles."
Though he only had a short time before the event, Vinci managed to raise $1,205 for the relay.
Sophomore Kapiolani Kassal, who was diagnosed with cancer when she was 8, said her experience dealing with cancer at such a young age prompted her to attend the relay.
"I had lots of chemo and radiation," Kassal said. "I started when I was 8 and was considered to be in remission when I was 10 and a half, so almost 19 months of chemo."
Kassal said she would tell anyone with cancer not to take anything for granted.
"Cherish the days you have left, because you never know when it could be over," Kassal said. "Something you could think is trivial that you take for granted could be monumental when you have cancer."
Anne Woodard, bursar and associate director of operations for student financial services, was diagnosed with cancer after finding what she describes as a "pebbly feeling" above her left breast.
"Those are the words nobody wants to hear," Woodard said. "When I first heard that news, I had to face my own mortality. I never thought I could do that, but I did."
Woodard said the college was incredibly supportive during treatment, and she has attended the college's relay for 10 years now to show her gratitude.
"As a survivor, I'm in awe of the fact the students are doing this," Woodard said. "It's very important for me to be here to show my gratitude for what they've done."