According to Rene Borgella, picture-perfect, neatly trimmed lawns are the opposite of natural landscaping.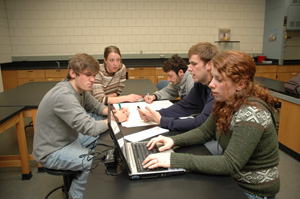 "We're basically fighting nature to have a lawn," said Borgella, assistant professor of biology. "Alternative landscaping is … more in synergy with the natural ecosystem, as opposed to doing the exact opposite."
So the environmental studies capstone course, taught by Borgella, is trying to make landscaping more nature friendly.
Borgella said traditional views of lawns must be changed.
"We've been sold the idea that what a well-kept home looks like is to have a lawn with not one dandelion on it," he said.
Alternative landscaping involves planting native, aesthetically pleasing plants, instead of shallow-rooted grass. The plots on campus have 33 species, including Black-Eyed Susans and coneflower. Unlike grass, native plants have deeper roots and grow into a meadow-type
environment requiring little upkeep.
Borgella said roots of native grasses grow up to 6 feet. Deeper roots allow for air penetration, increase nutrients and biodiversity, and hold soil better, which reduces erosion and flooding.
The idea for the course developed about two years ago, Borgella said. Faculty members from the biology, chemistry and physics departments were interested in teaching practical applications of sustainability.
"We were thinking about what we could do in practice as an institution that would be a model of sustainability," Borgella said.
The first class was offered in Spring 2006. Students researched appropriate plant species for the Ithaca climate and prepared garden plots between the Center for Natural Sciences and the Roy H. Park School of Communications. The class also conducted a survey of faculty, students and staff about landscaping design and upkeep.
The plots are still maintained, but the focus of this semester's five-person class is working on a campus-wide education campaign. Students are making posters, analyzing costs of alternative landscaping and designing a Web site to educate the public about landscaping practices.
Junior Emma Kluge said the intent of the campaign is to make the campus community aware of the benefits of alternative landscaping.
"Our main objective is to get the educational campaign going and to get people on this campus and in this community understanding what alternative landscaping is and why it's significant," Kluge said.
Before the project could begin, they had to get permission from Howard Erlich, dean of the School of Humanities and Sciences, and secure money to buy seeds and plants. They also needed permission from the Physical Plant, which is responsible for the college's landscaping.
Borgella said at first, Roger Casterline, director of facilities, grounds and transportation for the Physical Plant, was skeptical of alternative landscaping because he had never heard of it before. The Physical Plant wanted the garden plots planted behind Emerson Hall, Borgella said.
"I'm in my 34th year here at the college, and so we were brought up with a different frame of landscaping in mind," Casterline said.
After Borgella and other faculty members explained their proposal, Casterline was in favor of the idea, Borgella said.
Among other benefits to the college, alternative landscaping is cheaper in the long term than traditional landscaping because it saves on gas money for lawn mowers, Borgella said.
Lawns on slopes and beside roads are dangerous and inconvenient to mow, said junior David Widmer, a student in the class. He said using alternative landscaping can alleviate those issues.
Borgella said the areas can be set aside as gardens where students can relax.
"Wouldn't it be nice if there were places on campus that were sort of natural little oases that you would go, and you could sit and see pretty things around you?" Borgella said.
Widmer said alternative landscaping plots could be nice places to hold classes or just relax.
"It could be used to sort of bring different pieces of the college community together," Widmer said. "Classes other than science classes from CNS could use natural landscaping plots."
Kluge said she believes the course has helped her educate people about landscaping.
"A lot of what we've learned is how to deal with people, meet with people and educate people on important topics," Kluge said.
Borgella said he hopes the educational campaign will raise awareness about alternative landscaping.
"What we're trying to do is instead of telling people that it's bad to have lawns … is showing people that there are other things that look good, are easy to care for, are cheaper and that are actually good for souls and spirits," he said.