The number of reported rape cases and drug abuse violations increased from 2013 to 2014, while reported liquor law violations decreased,
according to the 2015 Annual Security and Fire Safety Report released by the Office of Public Safety and Emergency Management on
Oct. 1.
According to the report, the number of rape cases reported on campus has increased from zero cases in 2013 to four cases in 2014.
Public Safety Investigator Tom Dunn said the increase in the number of rape cases reported may have to do with more people taking the initiative to report it.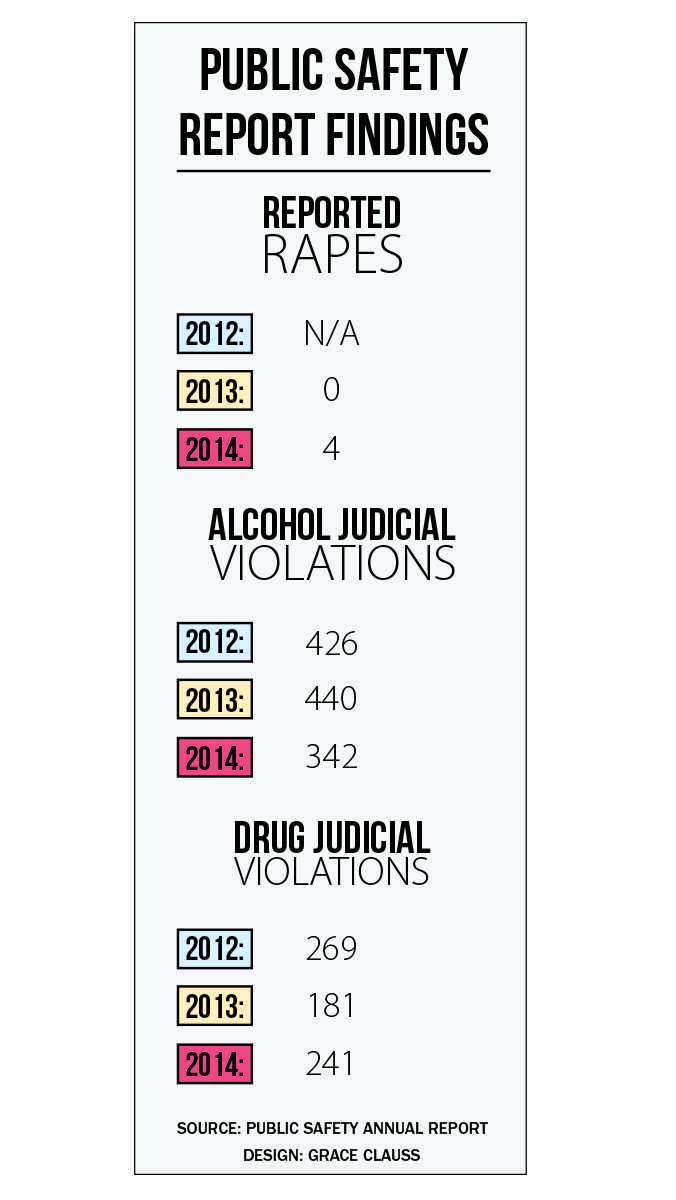 "It's not as dramatic as one might see just looking at the data," Dunn said. "It's been happening all along, and if you look at the national averages, our numbers are a little lower than the national average."
Dunn said the Title IX coordinator provides students with the opportunity to report rape cases to an external source so they feel more comfortable than reporting it to the police.
"The 2014 statistics include reports that went to Title IX, not necessarily investigated by the police, but just documented that it occurred on
campus," Dunn said.
Tiffani Ziemann, Title IX coordinator, said her role is to reach out to students and help them understand the options and resources available for reporting cases of sexual misconduct, like rape.
"I think in the past couple of years, Ithaca College and all colleges and universities have been doing a lot better job of explaining to students their reporting options," Ziemann said.
She said she also thinks the increase in rape cases is because of the increase in students reporting the incidents rather than just an increase in the number.
"I can't speak to why 2013 had none, but the fact that we had four reported in 2014 means that more cases came to the college's attention," she said. "Either students were connected with the resources or sought out a judicial response."
Dunn said in 2012, sex offenses were categorized as either forcible or non-forcible, and in 2013, they expanded to four more descriptive categories: rape, fondling, incest and statutory rape.
"I'm very proud with our 2014 statistics, and I think with the changes in sexual assault classifications … it gives people a better feel for what those numbers mean," Dunn said.
Ziemann said she thinks the number of rape cases on campus is underreported across all
college campuses.
"I think it's just an improvement of people's understanding of what the college needs to do and the ability to report," she said.
The report also noted the increase in drug abuse violations. In 2013, there were five reported cases of drug abuse violations, while in 2014 there were 19 reported cases, according to the annual report.
In 2013, the number of on-campus drug abuse violations that resulted in disciplinary action was 181 cases, which increased to 241 cases in 2014.
Nancy Reynolds, health promotion center program director, said it's common for students to relieve stress by using substances.
The annual report also said reports of liquor law violations that resulted in disciplinary action decreased from 440 cases in 2013 to 342 cases in 2014. In 2010, the reported number of liquor law violations that resulted in disciplinary action peaked at 870 cases.
Last year's reported number of disciplinary actions against liquor law violations was the lowest recorded in the past decade.
Dunn said in 2010, the college transitioned to allow resident assistants and student workers to enforce alcohol violations.
He said the numbers significantly increased and then started to decrease when students realized the RA could refer them for alcohol violations.