LeBron Rankins, a psychologist at the Center for Counseling and Psychological Services, has spearheaded an initiative to educate the Ithaca College community about distress and suicide. Last year Rankins founded the Pathways program to foster mental health crisis prevention and intervention. The training is a one-time session during which participants learn how to identify a person in distress and direct him or her to seek proper assistance.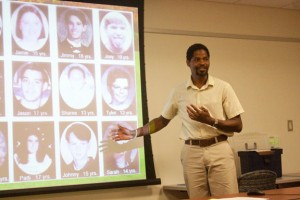 Rankins sat down with Staff Writer Brian Rank to talk about Pathways and its benefits for the campus community.
Brian Rank: What does the Pathways program do for the community?
LeBron Rankins: Pathways is IC's brand of what we call gatekeeper training. Those who interact with people who are most likely to know who is in distress are the ones who are the gatekeepers, and the gatekeepers help connect people to the folks who can help them. It's our belief that if those who are most directly connected with others who might be in distress know what to do to help someone who might be in distress, then we can eliminate the likelihood that a crisis is going to occur.
BR: What do participants learn in the training?
LR: One of the things we teach is helping participants in the training recognize ways in which their own fear might get in the way of reaching out to somebody who is in distress. Nobody wants to mess up. Nobody wants to do it wrong. No one wants to make the situation worse, and those are some very real fears that people talk about. … We talk about signs and symptoms of someone who might be in distress; we talk about how to approach people in such a way that it builds one's sense of confidence in doing so. Also, it results in the likelihood that the person in distress is more likely to get connected with the help and resources [they need].
Check Thursday's issue for the full interview.