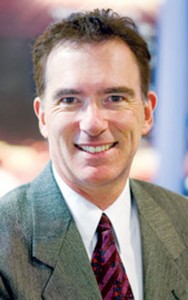 Faculty Council has approved a new Faculty Advisory Committee to aid President Tom Rochon in making tough choices regarding Ithaca College.
"There have been many times when I have wished I had a select group of faculty to help me make decisions," Rochon said.
The committee will be composed of two faculty members from each school and four from the School of Humanities and Sciences. Each school is currently in the process of recommending faculty members for the committee. The council approved formation of the committee at its Aug. 31 meeting.
Stan Seltzer, Faculty Council chair and chair of the mathematics department, said Rochon has expressed a desire for the formation of such a group in the past.
Rochon said the main function of this committee is to assist him and Greg Woodward, interim provost and vice president of academic affairs, in the early stages of strategic planning for the college. Discussion within the committee will not be openly publicized.
"[The committee will be used] when the president would like to bounce an idea off some faculty and the idea is in very preliminary stages," Seltzer said.
This announcement comes just a few weeks after Rochon and Woodward announced plans to draft a 10-year strategic plan for the college's future. Provisions in the first draft of the plan, which will be brought to the college's board of trustees this weekend for trustee approval, could be one of the faculty committee's talking points, Rochon said.
Rochon said the committee could be brought to session multiple times throughout the year, or not at all.
Professor Warren Schlesinger, a member of Faculty Council, said Rochon's decision to ask for a fresh advisory committee is in the best interest of the college's future.
He said the president openly expressing his desire for consistent faculty input is a step in the right direction for solidifying the connection between faculty and higher administration.
"I see this as a very positive statement about the president and his relationship with the faculty," he said.