Marisa Kelly has been chosen as Ithaca College's next provost and vice president for academic affairs, President Tom Rochon announced today.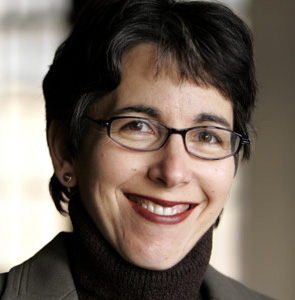 Kelly, currently the dean and McQuinn Distinguished Chair of the College of Arts and Sciences at the University of St. Thomas in Minnesota, will officially begin her position at the college July 1.
The decision comes at a time of transition as Rochon begins to implement IC20/20, the comprehensive 10-year strategic plan for the college's future.
Interim provost Gregory Woodward will continue to serve in his temporary position until July 1. He will resume his position as dean of the School of Music at that time.
Abiodun Goke-Pariola, provost and vice president for academic affairs at Otterbein University in Westerville, Ohio, and Mary Strey, former provost and vice president for academic affairs at Gustavus Adolphus College in St. Peter, Minn., also interviewed for provost.
Rochon said Kelly was selected because of her academic experience at a college similar to Ithaca, her ability to communicate well with many different audiences and her compatible vision of the college's future.
"I wanted a provost who was comfortable with that developing vision because I didn't want the campus community to go back to square one next year and start over again," he said.
Rochon declined to comment on the other final candidates or the selection committee's judgment of Strey and Goke-Pariola.
Rochon, who had the opportunity to work with Kelly while serving as executive vice president and chief academic officer at St. Thomas between 2006 and 2008, said he was impressed by Kelly's collaborative approach.
"I thought that would fit in very well with the style of collaborative decision-making at [the college] and, in particular, the way she, as provost, would make decisions in collaboration with the deans," he said.
Rochon said working with Kelly in the past did not directly affect his decision, but his familiarity with St. Thomas allowed him to gather candid testimony regarding Kelly's abilities.
During her time at St. Thomas, Kelly said, she implemented a plan similar to the IC20/20 vision. She said that experience will help her fulfill her responsibilities, especially during this transitional phase.
"In many ways, that process has mirrored at the school level what [the college] has been and is doing going forward," she said. "At the college level, it parallels the process of IC20/20 but on a smaller scale. I think that experience will serve me very well as provost at Ithaca."
Kelly said she plans to make several visits to the college this spring to familiarize herself with the college and help to develop the IC20/20 vision cultivated by Rochon and Woodward this year. This summer she said she plans to hit the ground running.
"This is an absolutely wonderful time to be joining the Ithaca College community," Kelly said.
Rochon said he was deliberate in his selection because of the impact the position will have on the college's academic future.
"The provost will be front and center as the chief academic officer responsible for the implementation of our academic vision in all of its phases, including the aspects that relate to student affairs and campus life," Rochon said. "That is exactly what makes this particular hire so important and why I was determined to make sure I got the very best possible candidate."