Republican presidential candidate Ron Paul, a hero of small government libertarians, outlined his candidacy Thursday night in front of a packed crowd of more than 4,000 at Cornell University's Lynah Rink, the home of the Big Red's men's and women's hockey teams.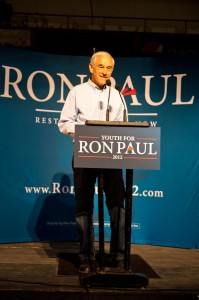 Paul, 76, visited Cornell a mere five days before Tuesday's New York presidential primary as part of the Youth for Ron Paul campaign, where the Texas congressman is visiting about 30 colleges and universities nationwide as part of an effort to mobilize more support among young voters.
The large crowd was behind Paul all night, offering deafening applause upon his arrival and chanting slogans like "President Paul" and "End the Fed," a reference to Paul's policy aim that seeks to eradicate the nation's Federal Reserve, throughout the night as the candidate addressed a topics ranging from liberty to the "War on Drugs."
In regards to the "War on Drugs," Paul argued that the government's efforts to combat drugs are oftentimes more dangerous than the drugs themselves.
"To say that the nanny state will solve our problem — that the government and the bureaucrats and the regulators spent $3 trillion in the last four years and have no success — it's time to call it off," Paul said.
Paul also addressed the recent Stop Online Piracy Act, or SOPA, which was shelved following protests and objections from citizens and popular sites such as Wikipedia.
Paul said that while the decision to suspend the bill showed that people can bring about change by making their voices heard, more bad news soon emerged in the form of CISPA, or the Cyber Intelligence Sharing and Protection Act of 2011, which facilitates information sharing and is designed to protect the U.S. from cyber attacks.
"The very bad news is they are at it again," Paul said. "They have another bill coming up, not only equally bad but maybe worse […] which means that if you want your privacy, if you want to protect the Internet, get to your members of Congress, get to your senators and tell them you don't want that bill."
Raj Kannappan, chair of the Cornell Republicans, said Paul's visit was the result of a petition initiated by the group last semester. The Cornell Republicans, in collaboration with the Cornell Libertarians, collected about 5,000 signatures for the petition.
In an interview with The Ithacan, Kannappan said he believes it's Paul's genuineness that draws in such a large amount of youth support.
"He speaks from the heart," Kannappan said. "I have actually never seen him live or on video ever read a single speech. He really just says what he thinks. Even though they might not agree with everything he says, students find it refreshing to hear a public official tell them exactly what he thinks."
College students, residents from across the state, media representatives and City of Ithaca Mayor Svante Myrick attended Paul's speech, which was organized by the Cornell Republicans and Libertarians.
Myrick was not available to comment on Paul's visit.
In the race for the Republican nomination, Paul currently has 52 delegates, trailing race frontrunner Mitt Romney, former governor of Massachusetts, who's in the lead with 684 delegates. A candidate needs 1,144 delegates to grab the nomination. Paul also trails Santorum, 270 delegates, and former Speaker of the House Newt Gingrich, 136 delegates.
Fellow Republican presidential candidate Rick Santorum announced last week he will suspend his campaign. In the aftermath of Santorum's announcement, Paul has faced questions about his plans for the future but has dismissed the notion that he will quit.