As rain pours down on solar panel-covered roofs, EcoVillage at Ithaca, a small but growing sustainable development in west Ithaca, prepares to spread its roots a little farther this summer into the Ithaca community.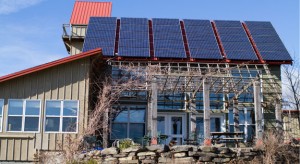 On Monday, Tompkins County was recognized by the U.S. Environmental Protection Agency as a "Climate Showcase Community" and was awarded a three-year grant totalling $375,450 to partner with EcoVillage. The grant will fund three pilot projects in three different environments — a hamlet, a village and an urban setting.
Ecovillages exist worldwide, and there are more than 500 ecovillages in the Global Ecovillage Network.
EcoVillage, which started nearly 20 years ago and houses about 160 residents, is made up of two sustainable communities, First Resident Group, FROG, and Second Neighborhood Group, SONG. The first hamlet project will be EcoVillage's Third Residential EcoVillage Experience, TREE, which is set to begin construction Aug. 1.
Liz Walker, co-founder of EcoVillage, said the houses in the new community will use Passive House technology, which is airtight and uses solar energy and insulation to conserve energy expenditures. Walker said the walls will be up to 15 inches thick and contain a heat recovery ventilator which will circulate fresh air.  The new community will be built just north of the first and second neighborhoods.
"These houses, like a three-bedroom house, could be heated with the equivalent of just turning on one burner of your stove," she said.
Walker said the Passive House Institute of the U.S. has only certified 13 homes, and TREE alone plans to build 22 Passive Houses. Though each house costs nearly $15,000 more to build than an average house its size, Walker said the price makes it worth it in the long run.
"We want to model the way of the future and we'll be the first place in the country to have a really good showcase of multiple Passive House homes," she said.
According to the Passive House Institute, Passive Houses save up to 90 percent of space heating costs.
Besides being a model of sustainability in the state, EcoVillage also creates a tight-knit community vibe. A common building sits at the center of the village. Inside, a trellis covered in green vines stretches across the ceiling. Tables, a sitting area, a two-stove kitchen and a piano occupy the open space. In this space, residents take turns cooking meals and having community dinner.
Walker said the third neighborhood will combine three goals — sustainability, accessibility and affordability. One of the components of that is building a common house that is four stories and will have apartments on the top three stories, which will promote more use of the space.
Karryn Olson-Ramanujan, a resident at EcoVillage and lecturer in the department of environmental studies and science at Ithaca College, said she moved to FROG about seven years ago.
When Olson-Ramanujan moved from Wisconsin to Washington, D.C., with her husband and daughter, she said she was shocked that there were no parks and not much interaction outside. That's when she started looking at ecovillages and more sustainable ways to live.
"We came and visited [EcoVillage] and just kind of all fell into place at that point," she said.
Olson-Ramanujan said living in a tight-knit community can be a great support system.
"What's wonderful about it is I have many people I consider close friends and great support, and in times of need you really see that support network come through," she said.
Like all 60 homes in the two communities, Olson-Ramanujan's big windows let the sun warm the room. Homes in both communities rely on solar energy. Walker said the communities' layout is inspired by models in Denmark that use dense co-housing and leave a pedestrian footpath in between the houses.
"It leaves a very small footprint on the land," she said. "You park the cars on the outside of the neighborhood, and you have these winding pathways. You can ride bikes, kids can play safely, you can have picnics. It's a very community oriented sort of place."
New Earth Living, a small organization that aims to create small, sustainable urban villages, is part of the second urban pilot project of the grant.
Susan Cosentini, president of New Earth Living, said the urban community will also build Passive Houses, a district heating system, an all-edible landscape, facilities for composting, a common space and root cellar, but with some other perks.
"We're building a facility for bike storage to really encourage bike use instead of car use," she said. "People will be able to walk to work, to play, to dinner, and so we're going to be able to magnify the impact by having that component in the mix."
Cosentini said New Earth Living is in the process of gathering residents for the new community that will be on the corner of North Aurora Street and East Marshall Street. She said they expect to break ground on the project within the next year.
Cosentini said there has been some interest in the program so far, but she said hopefully the grant will help with public outreach.
The third pilot project will take a look at 26 acres of county land and explore the potential for a village-scale residential community that would incorporate high-energy efficient buildings, some on-site jobs and alternative transportation options.
Walker said living in a sustainable community encourages a healthier lifestyle for its residents that is focused on nature.
"If you look out here, you'll see a pond and forest and meadows, and that's part of what we're demonstrating," she said.
Walker said she is happy EcoVillage is modeling an alternative type of land use, and it can be replicated outside the village.
"In our culture, it's harder and harder to find a place where you can enjoy nature without even driving someplace," she said. "[EcoVillage] is a great place for a few people to live, but not that many people live here so let's make more places like this that really celebrate the ideals of being greener and more community-oriented."