The routines of standup comedians David Cope, Sarah Tollemach and Joe Pera filled IC Square with laughter Thursday in an event sponsored by the Student Activities Board.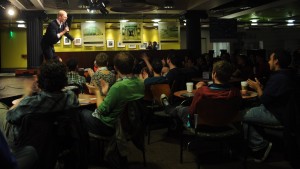 More than 40 students attended the event, which was headlined by Cope.
Pera, who graduated from Ithaca College last spring, opened the night with a 15-minute routine on his love of Julia Roberts and children's books. He also described his experience opening a "Lids Hats" franchise with his grandfather, depicting the story with a slideshow of pictures set to background music.
Senior Jake Goldberg, SAB comedy chair, said he met Pera when he was still a student at the college at a mutual friend's birthday party. Goldberg said he booked the event because he knew students would enjoy all three comedians.
Tollemache, a comic and Texas native, followed with another short set that made a mockery of her terrible diner experiences, encounters on the New York City subway and difficulty playing video games. She also shared humorous anecdotes from her waitressing career.
Tollemache said her comedy embodies a variety of different styles.
"[My comedy] is dry, with small anecdotes," Tollemache said. "I'm moving more into conceptual pieces, video sketches and shorts."
When Cope took to the stage, he immediately began a 30-minute routine with a shadow puppet show and conversation with audience members. Cope — whose routine mocked over-the-top marriage proposals, Snapple facts and Sherlock Holmes — stopped in the middle of his routine to interrogate student workers closing up La Vincita. Cope tapped on the glass sectioning the pub's quiet area and brought a student up to the stage before concluding his routine by reading a romantic letter to another student.
Cope said he started to pursue comedy open-mic events in Portland, Ore., before sharing his material in Seattle. Now, Cope said he performs as many gigs as possible in New York City. Cope said standup has opened doors for him in television and film
"Stand-up has been leading to more auditions for me," Cope said. "I booked my first commercial a while back."
While Cope does not perform at many schools and universities, he said performing for students gives him more opportunities to freely interact with the audience.
"The cool thing with performing for students is you can be a goofball and they're not going to freak out," Cope said. "One time I tried to do a little crowd work at a comedy club, and I sat down at a table and goofed around, and the adults working didn't know what to do. They were a little freaked out. So you go mess around here and it's fun."