In February, the Office of Public Safety made five arrests for criminal possession of prescription drugs, more than the cases from 2005 and 2006 combined, according to the office's records.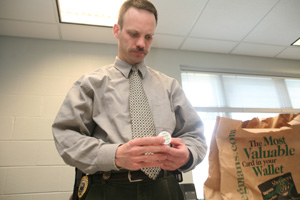 Three of the five cases resulted in arrests, said Laura Durling, assistant director of patrol and security services.
In 2005, there were two reported cases and were both referred to the Office of Judicial Affairs. In the five cases in 2006, only two resulted in arrests.
Durling said she was not surprised by the increase in arrests. She said Public Safety has been identifying more illegal possessions of prescription drugs when officers investigate drug cases.
She also said visitors to campus are being arrested for criminal possession of prescription drugs.
Investigator Tom Dunn said the increase in arrests is because of greater awareness and training by Public Safety officers, and is not necessarily indicative of a campus-wide drug problem.
"The trend in the nation is going towards prescription drugs," Dunn said. "Our officers are just getting better at looking for it and identifying it as a problem."
According to the college's Core Alcohol and Drug Survey, administered to 739 students in 2006, 78 percent of students said they never used a prescription stimulant — like Ritalin, Adderall or Dexedrine — to enhance their academic performance without having their own prescription.
Seven percent said they illegally used a stimulant one to four times during the month of the survey.
Dunn said some cases like these are referred to the Office of Judicial Affairs because there may not be enough evidence to formally charge the student.
"Criminally, we have to [have evidence] beyond a reasonable doubt," Dunn said. "A judicial referral only requires a preponderance of the evidence, a burden of proof less than a reasonable doubt."
Freshman Andrew Ross said he has noticed many of his friends illegally using prescription drugs. He said the most popular drug he's seen is Adderall.
"It gives you an extra edge," he said. "[It] lets you do work you couldn't normally get done."
Ross said he used to take Adderall but stopped because it didn't work for him. But he said it wasn't difficult to secure without a prescription.
"I got it from a friend, and he got it from someone with a prescription," he said.
The specific types of medication seized from students and nonstudents varies, but according to Public Safety statistics, the most common types of drugs were anti-depressants like Alprazolam and Wellbutrin and the stimulant Adderall.
According to New York state law, prescription drugs are controlled substances and illegal possession of such is a misdemeanor. It rises to a felony depending on the amount.
Dunn said every person arrested in the past two years was charged with a misdemeanor.
Students illegally using prescription drugs are difficult to find, Dunn said, because they are usually ingested orally and have no distinct odor like marijuana. Dunn said officers often respond to a complaint about noise or a suspicious odor and find students in possession of prescription drugs as well as alcohol or marijuana.
If a student is caught in possession of prescription drugs and doesn't have proof of prescription available, Dunn said, they are given time to produce one. If the student cannot produce a prescription to Public Safety, he or she is arrested, but still has an opportunity to prove their prescription and have the charges dropped in court, Dunn said.
"We try to be reasonable," he said. "There is no specific amount of time we give people to produce scripts … it varies on different circumstances."