As the recession continues to cause families across the nation financial difficulties, The Salvation Army of Ithaca is seeing an increase in the number of local residents passing through its door.
Major Carl Carvill, pastor and administrator of The Salvation Army in Ithaca, said the organization serves about 300 to 400 families each holiday, but more than 500 families have already asked for help this year.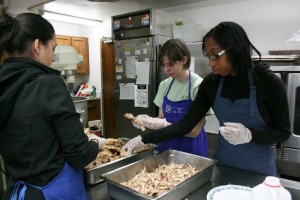 "It appears that the economic climate in the rest of the country has crept into Tompkins County and even into Ithaca," Carvill said. "We were fairly insulated previously. Some of these same issues of employment that we're hearing a lot about are really having an effect here."
Carvill said The Salvation Army will need to raise at least $250,000 for the holiday season — 4 to 6 percent more than at this time last year.
Karen Sargent, facilities manager, custodian and cook at The Salvation Army, said she has the opportunity to interact with many of those who attend Salvation Army events often.
"A lot of it has to do with our economy and the fact that jobs aren't paying enough for people to survive," Sargent said.
Ithaca resident Janice Tucker said she has been going to The Salvation Army for about 15 years for its food pantry, meals and Thanksgiving dinner. Now, with no job and much of her time dedicated to attending a recovering addicts program, Tucker said she and others who frequent The Salvation Army have a hard time making food stamps last.
"Some people come because they have no choice," Tucker said. "They also come to socialize with others and find out what's going on in Ithaca."
While regulars continue to stop by The Salvation Army's programs, Carvill said he has never seen some of the Ithaca residents who have recently been popping up at meals and for holiday programs.
"For those IC students who live in apartments off campus, they might live next door," Carvill said. "A lot of folks are working hard to make ends meet. Often what happens is they're making just enough to not be eligible for government or other subsidies, but they still have to pay the rent."
Carvill said raising money and donations during the holiday season is one of The Salvation Army's major goals, since many more Ithaca families are in need this time of year.
"We feel that every kid ought to wake up to presents under the tree," Carvill said. "Every family should be able to enjoy a wholesome meal, with leftovers to carry them over for a few days."
Besides an expanding need for donations and volunteers to help with holiday programs, Sargent said she's noticed a 30 percent increase in attendance to Our Brothers' and Sisters' Table meals on the weekend.
"Last Sunday it was so full there weren't any chairs left," Tucker said.
While attendance is high, Sargent said the number of donations to the program is lower than usual.
Carvill said The Salvation Army will ring bells at local retail venues to prepare a large Thanksgiving meal for the community and will organize Adopt-A-Family programs for the holidays like it does every season. But this year, Carvill said it is especially important for the community to give warm clothing or nonperishable foods to the organization.
He also said he encourages members of the community to start their own fundraisers to benefit families in need during the holidays.
Most of all Carvill said the goal of the organization is to invest in the futures of those in need so they can get through tough times and build a better life for themselves and their families.
"We work to support those who are trying to do something to help themselves," Carvill said. "We look at that as an investment in someone's future success," Carvill said.