Kiran Nagarkar, renowned Indian writer and Fulbright Visiting Scholar, encourages students at Ithaca College to embrace life with open arms. With support from the School of Humanities and Sciences and the honors program, Nagarkar was brought to the college to lecture this fall and will continue to give the campus community a taste of contemporary Indian storytelling and culture in the spring.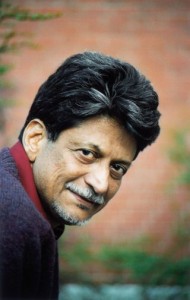 Nagarkar read selected passages from two of his novels, "Ravan and Eddie" and "God's Little Soldier," Tuesday in Klingenstein Lounge.
Assistant News Editor Taylor Long spoke with Nagarkar about storytelling and the impact he hopes to have on students.
Taylor Long: What do you hope to accomplish through your stories?
Kiran Nagarkar: If you enjoy the richness of life and density then you can have something fast-moving or slow. The overriding principle for me is that it has to be entertaining — hopefully hugely entertaining. If you are any good as a writer or a screenplay writer or whatever, then the audience will take you seriously — not as a human being but because there will be something in your work that stays with them.
TL: Of the novels you've written over the years, which one is your favorite?
KN: That's a hard one. Because, so far at least, the books are so different from each other. I find it difficult to compare because the mood is different in each book. In "Ravan and Eddie" I'm dealing with extreme poverty in a sense. The novel is seen through the eyes of the two children. So there is something tragic happening all the time, but there is a humongous amount of fun there. … And "God's Little Soldier" is, unfortunately, truly one of the most difficult and pervasive issues we are faced with today. There's no getting away from that. I wish to God it was not the case.
TL: How has your background influenced your work?
KN: You can't get a worse or better hodgepodge than me — completely messed up and mixed up and hopefully the better for it. To not belong to a caste in India in those days was certainly a problem. I did not suffer the effects of not having a caste, but certainly my grandfather did. … We were always outsiders. There are some benefits to being an outsider and there are some terrible things. I'm glad that I stand on these two terrible stools.
TL: Tell me about the course you're teaching next semester.
KN: Next semester I will talk about the other Bollywood, not the normal Bollywood. The perception of Bollywood, which is mostly correct, is that it does produce dreadful stuff. But they have, in the last few years, started making really interesting films, which is such a heartening development that I really feel it's about time that the world pay attention to it.
TL: What is one of the lessons you would like to impart on students?
KN: I have things that I value, and I would like the students to consider their possibilities. I'm not saying they should adapt them. The first value, as a matter of fact, is you doubt your teachers, you doubt you parents, but most of all you doubt yourself. You reexamine everything; you don't take anything on faith.