Finals week: the exams, the essays … the pills.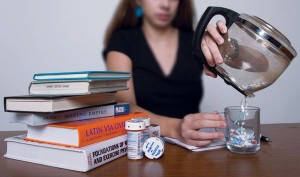 Students have been using Adderall for years, but now it's returning to the forefront of attention as the nation sees a shortage.
The addition of Adderall to the Federal Drug Administration's list of drug shortages in October has brought the spotlight back on the medication as pharmacies struggle to meet the demand for prescriptions.
Those with prescriptions are finding it harder to get them filled, Nicole Pagano, pharmacist and owner of Green Street Pharmacy, said. The pharmacy has been working with customers and their doctors to change the dosage of prescriptions and make it easier for patients to get their prescription. Pagano said some customers have chosen to look elsewhere when they get put on the wait list.
"It's been difficult because everybody needs their medication, and only the lucky ones get it," Pagano said.
Those with prescriptions are not the only ones who will be affected, though. The National Survey on Drug Use and Health found that full-time college students were twice as likely as peers of the same age who are not in school to have used Adderall non-medically in the past year.
Junior Susan* sells Adderall pills at Ithaca College for $5 each. Her friend, who does not like taking the prescription but recognizes their monetary value, gives some to Susan to sell. She said he does not live in a college town, so he gives her the prescription when he visits, Susan sells to students and then she keeps half of the profit. She said demand usually goes up during finals week.
"I'm not on a large scale or anything, but I maybe sell between five and 10 pills a week," she said. "I bet during finals week I'll definitely run out."
Students like senior Maria* take Adderall as a study aid, especially during stressful weeks like midterms and finals. Maria is not prescribed ADHD medication and said she first took Adderall her freshman year of college because she didn't feel prepared by her high school for the course load.
Maria said she takes Adderall to better her energy, focus and mood. She said it makes her feel motivated and think about the future, but on the other hand, sometimes it can make her distracted and focus on the wrong thing, like Facebook.
She also said professors are almost never aware of how much coursework a student might have from another class, which adds pressure.
"Sometimes I have three papers due the same day," she said, "And I can't … my body … I can't take it, I'm a human being."
The use of prescription medications like Adderall, which include other attention-
enhancing drugs like Focalin, Ritalin and Concerta, introduces a moral question, as some feel that when it is used as a study aid, it gives students an extra edge, Elaine Moore, author of "The Amphetamine Debate," said.
Moore said she feels the stigma surrounding Adderall is not due to the side effects of the drug, but because of its effects on society. She said there are many federal restrictions on obtaining Adderall, with the large number of students being prescribed Adderall who do not take it because they do not enjoy the effects. Instead of ending the prescription, they choose to sell it, fueling the black market.
Moore said the black market and other effects of the restrictions on obtaining stimulants can be worse than the prescription drugs themselves.
"All of the restrictions led to people manufacturing crystal meth, which is totally different, shooting it up and causing problems with it," she said. "The restrictions themselves are what have caused it to be this major problem. It's not that bad of a drug."
Many colleges have taken a stance against non-medical use, usually citing that it is not only illegal, but in the eyes of some colleges and universities, unethical. In September, Duke University amended the Duke Academic Integrity Policy to include nonmedical use of prescription medications under what the university considers as cheating.
Even some people who are prescribed a medication for ADD, like senior Allison Freeman, who has been prescribed Concerta since she was diagnosed in the third grade, understand why students would take the medication without a prescription.
"Sometimes I know if I have to get a paper done I'll take it because I know then that six hours of time I'm going to get a lot of work done," she said. "It makes a huge impact, because even if you don't get work done, you might get something else done and you're like, 'Whoa, I've been trying to get that done for ages.'"
To obtain the drug, some students fake symptoms for a prescription. Ithaca psychiatrist William Wittlin said he gets a feel for the person's integrity and makes sure there is no pre-existing drug abuse. He asks a series of questions about performance before prescribing ADD medication. Wittlin said, for example, a person who actually has ADD would probably have trouble taking notes and listening to a professor at the same time. Wittlin said distinguishing the difference between somebody who has the disorder and somebody faking it to get a prescription can be difficult.
"There's a fine line between performance enhancement and whether the person 'actually has' Attention Deficit Disorder," he said. "After a number of hours in my presence, generally I feel pretty comfortable that I can figure out or question out people who might have an agenda of just getting drugs to enhance performance or make money."
Besides the moral issue, the FDA warns that stimulants can affect pre-existing problems, such as cardiac abnormalities and psychosis.
Wittlin said the side effects of taking Adderall can be just as harmful to people with or without the disorder.
"People that don't have the disorder are just trying to be better at what they're already OK at," he said. "People that have the disorder truly are highly distractible, can't concentrate for a long period of time, are disorganized as to how they allot their time, so they can't study effectively."
Some students, like senior Rena Ostry, oppose Adderall because of what it says about society. Ostry said the use of Adderall highlights this
generation's dependence on pharmaceutical companies and using medications as a blanket solution.
"We're in a society where young people aren't taken as seriously as they could be because dependence on crutches like these drugs leads to a reiteration that we're not capable," she said.
*Some names in the article have been changed to protect anonymity.