The Center for the Study of Culture, Race and Ethnicity has launched its annual discussion series with a new focus on black cultures.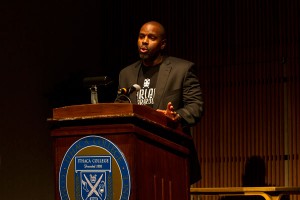 The first event kicked off last night in Emerson Suites with filmmaker and activist Byron Hurt, who presented his documentary "I Am a Man: Black Masculinity in America."
CSCRE Director and Professor Asma Barlas said this year's series aims to promote a better understanding of black male society in America.
"What we are trying to do with this series is to encourage a more complex understanding of the circumstances in which black men live in this country," Barlas said. "That is the framework for the activities we have planned around this series."
Barlas said the series initiative will also serve to quell media stereotypes, while addressing ways in which black men are represented.
"The point of the discussion series is to complicate the ways in which we think about, talk about, write about and represent African-American men," she said.
Barlas said one area of focus is steering away from media stereotypes.
"A lot of students, and for that matter, non-students, rely a great deal on sound bites, on what they think are reliable statistics," she said. "We get all kinds of poisonous associations between people of color generally, and the pathology of crime, drugs and so on and so forth."
Sean Eversley Bradwell, assistant professor in the CSCRE, met Hurt when he first visited Ithaca College in 2007.
"I think his work is phenomenal. I am excited to have the chance to bring him back on campus," Bradwell said.
"I Am a Man," which was screened yesterday discussed how racism, sexism, homophobia and the threat of violence negatively shaped black masculine identity in American culture.
Hurt said though the film was released in 1997, he is excited to see it remain relevant in black men's lives.
"I wanted to launch conversations to get black men to be able to talk to one another, getting people to think about the world that we all live in and how we can become more attuned to the struggles and complexities of life," he said.
Bradwell said it is essential to have a space to reflect on the social importance of black men.
"There is a need for all kinds of education on campus," he said. "Having a space to have a conversation about the world, history of social importance, and the social importance of black men is absolutely necessary."
In the past, CSCRE has hosted discussion series such as "Race and Immigration" and "Chaos or Community? MLK and the Politics of Resistance."
Senior Ariel Lawrence, who has attended many of CSCRE's discussion series in the past, said the events offer one of the best places to have an open dialogue about race and culture on campus.
"There are a lot of different presentations and events, and it's probably one of the most successful spaces created on campus where students and professors can come together in a way in which you can openly discuss what's going on and what the subject matter is about," she said.
Gustavo Licon, assistant professor in the CSCRE, said he attended the first event to support the series and to gain new knowledge and perspectives on the topic.
"It's on a very important topic," he said. "I don't think people are kidding when they say 'black men are an endangered species' particularly when it comes to higher education, men of color in general."
The series will include two more events on the theme, titled "Black Men," this semester.
Artist-in-residence David Butler will conduct a discussion titled "Representing Black Men," from 7 to 9 p.m. Oct. 31 in Emerson Suites. Zaheer Ali, research fellow at Columbia University and Jared Ball, associate professor at Morgan State University, will conduct a panel discussion about Malcolm X from 7 to 9 p.m. Nov. 15.
Juniors Shaunice Phillips and Reisy Veloz said they attended the event to understand the image of black men in society.
"I am interested in a lot of the speaker series that are offered by the center," Veloz said. "I just like to come watch and hear about other people's experiences."
Lawrence said she met one of her best friends freshmen year by attending the event and always encourages students and professors to attend.
"It's vital for the students in order to be fully engaged with their campus climate, whether it be socially or politically," she said. "I enjoy that there's an actual dialogue among the people involved with the series."
News Editor Kelsey O'Connor and Assistant News Editor Elma Gonzalez contributed to this article.